Education petition hand-in
Published on 23 February 2022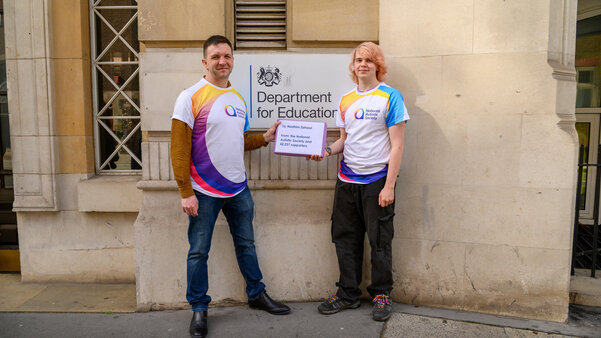 Over 40,000 people sign petition to save autistic children's futures
We received a great response to our recent education petition, with over 42,237 people calling on Nadhim Zahawi MP and the Government to invest in autistic children's futures. This sends a powerful message to the Government ahead of its review of the special educational needs and disabilities system (SEND) in England, which is expected in the next few weeks.
We delivered our petition to the Department for Education in person on 22 February and followed this with a demonstration in Parliament Square. We battled the elements to put up our cardboard building blocks, spelling out 'Save Autistic Kids' Futures'.
Thank you to everyone who supported this petition and to Clifford Chance, whose kind support made this project possible.
Background
In November, we published our School Report which found that the education system is simply not working for autistic children in England and that parents are facing exhausting and sometimes years-long battles to get support for autistic children in school.
Our report, which is based on surveys of over 4000 parents, carers, autistic children and young people, in Summer 2021, found:
A quarter (26%) of parents waited over three years to receive support for their child
Three quarters (74%) said their child's school place did not fully meet their needs – this has almost doubled since 2017
Only one in four parents are satisfied with the special educational needs support their child is receiving
Less than half of autistic children are happy in school
44% feel their child's special educational needs are not being met in general
Seven in ten autistic children and young people said school would be better if more teachers understood autism.
There are over 160,000 autistic pupils in schools across England.* Over 70% are in mainstream school, with the rest in specialist education, home educated or out of education altogether.
Caroline Stevens, Chief Executive of the National Autistic Society, said: "No-one should have to wait years for support in school. Yet this is the reality for many autistic children who are falling behind without the right support, facing exclusion or even out of education altogether.
The Government's upcoming SEND review is an opportunity to fix the education system, to live up to the promise of the 2014 SEND reforms. This means making sure councils, schools and teachers have the resources they need to support autistic children in their area, including introducing autism training for all school staff.
"We urge Nadhim Zahawi, the Secretary of State for Education, to listen to the voices of the 42,237 people who signed our petition and give autistic children a chance."
Maximus Clinch, is an autistic person and National Autistic Society Young Campaigner who attended the campaign. They said: "Supporting autistic young people within education is vital; education is often difficult for many autistic people, myself included".
Compulsory education happens during key periods of a person's development. Because of this, negative and hard experiences within school can and often have an impact on the person, both at the time and into their future.
"Often a lot of the negative experiences are due to the lack of understanding of autism and how being autistic influences a person's life, as well as the current state of autism provision in the UK. This petition is one of the many steps we need to make towards a fully inclusive education system for autistic people."
Kevin's 17-year-old son, Andy, is autistic. Kevin, a former secondary school teacher and now Youtuber, said: "We've had issues around support in school and school placements several times over the years, most recently when we moved to a different county.
Despite Andy having an Education Health and Care plan and attending autism specialist schools since he was 7, he wasn't offered a place at a specialist school for six months after we arrived in the area. It was a really difficult and stressful time for us all and simply not fair on Andy to miss six months of school, particularly after all the disruption of the pandemic.

While Andy's now fairly settled at a specialist school, he has days where he's too anxious to go into school. And he still doesn't have access to any of the respite or care services he had before we moved house. The waiting lists are so long that we're worried that he'll be too old by the time he's at the top of the list."
References
• *Special Educational Needs in England, June 2021: https://explore-education-statistics.service.gov.uk/find-statistics/special-educational-needs-in-england

Further information
• Read our School Report, which is the basis for our petition.
• For information and guidance about autism and education, visit our website.
• For advice and support on educational rights, tribunals or exclusions, contact our specialist helplines.
• We recognise mainstream education services who work hard to support and educate autistic children with our Autism Inclusion Award. Find out if your organisation is eligible for an award here.