School report 2021
Published on 09 November 2021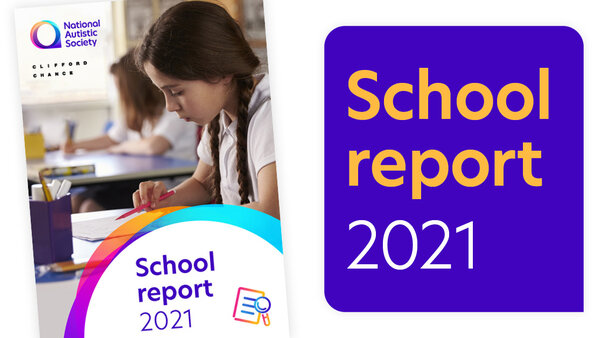 Our new report has found that parents are facing exhausting and sometimes years-long battles to get support for their autistic children in school. The education system in England is simply not working for autistic children and we are calling on the Government to intervene with its upcoming review of the special educational needs and disabilities (SEND) system, due in the Spring. Join us by signing our petition.
Our thanks to Clifford Chance for sponsoring our report and for their ongoing financial support of our charity's work.
Our report is based on surveys of over 4,000 parents, carers, autistic children and young people in Summer 2021. Thank you to everyone who shared their experiences. We found:
A quarter (26%) of parents waited over three years to receive support for their child
Three quarters (74%) said their child's school place did not fully meet their needs – this has almost doubled since 2017
Only one in four parents are satisfied with the special educational needs support their child is receiving
Less than half of autistic children are happy in school
44% feel their child's special educational needs are not being met in general
Seven in ten autistic children and young people said school would be better if more teachers understood autism.
What we found
There are over 160,000 autistic pupils in schools across England.* Over 70% are in mainstream school, with the rest in specialist education, home educated or out of education altogether. With this report, we sought to understand their experiences and found a deeply troubling picture.
Three quarters of the parents we spoke to said that their child's school place did not fully meet their needs – this has doubled since our previous education report in 2017. Parents also reported facing huge battles trying to get help, with 57% saying they had to wait more than a year for support and 26% waiting over three years.
On top of all these challenges, the pandemic has had a profound impact on the learning and mental health of autistic children, with 44% of parents saying their autistic child has fallen behind with work and 59% saying their child was more socially isolated than before.
Too many families are driven to expensive and stressful legal action to seek the support their child desperately needs, sometimes having to wait months or even years for anything to happen. Government figures show that 47% of appeals to the SEND Tribunal were for an autistic child.** Of SEN appeals being heard by a tribunal, 95% are resolved in favour of the parents.*** Our survey reinforces this picture: two in five parents who were refused an Education Health and Care assessment said they'd appealed to the SEND Tribunal, with the local authority conceding before the hearing in most cases.
Without support, many autistic children are struggling or shut out of education altogether. Government figures show that autistic children are twice as likely to be excluded from school either for a fixed period or permanently as pupils with no special educational needs.**** Exclusions can have a devastating, lifelong impact on an autistic child and should only ever happen as a last resort.
One in five parents responding to our survey said that their child had been informally excluded at least once in the past two years. Informal exclusions include children being sent home and asked not to come in. They are illegal and should not be happening.
Seven in 10 autistic children say that the biggest thing that would make school better is having a teacher who understands autism. Teacher training is part of the Government's recent autism strategy and we are also calling for the reinstatement of autism in the Initial Teacher Training (ITT) core content framework.
Call for action
The Government must intervene with its upcoming SEND Review and create a system that works for autistic children and young people. Without Government action, autistic children will continue to fall behind, with some even being kicked out of school or forced into home-schooling.
Caroline Stevens, Chief Executive of the National Autistic Society, said: "The education system simply isn't working for autistic children and their families, and things have been made even harder by coronavirus.
"Families told us they had to spend months, even years, without the right support, often because there's no school to meet their needs. And two in five of those who were refused an assessment of their child's needs said they took legal action. I know from my experience with my own autistic son how gruelling this can be, especially on top of the often-unbearable pressures families already face.
"We won't accept a world where so many autistic children are falling behind and so many families are being left exhausted and on the edge of crisis. The Government's upcoming SEND Review is an opportunity to change things, to live up to the promise of the 2014 reforms which were never implemented properly. The system is broken, the Government must act."
We are calling on Nadhim Zahawi, Secretary of State for Education, to use the SEND Review as an opportunity to fix the system once and for all. Join us by signing our petition.
Further information:
References
***Ministry of Justice. Tribunal Statistics Quarterly, July to September 2020, published 10 December 2020.