Our Big Questions
Published on 09 May 2022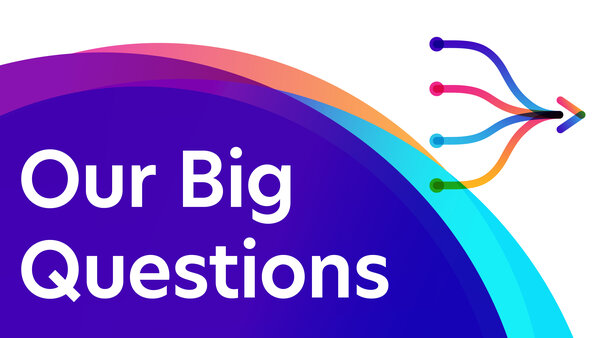 It's been 60 years since our charity was founded to fight for the rights of autistic people. Over the years we have worked to support and improve the lives of autistic people but there is still a long way to go.
This year, we have introduced various big projects that will guide our work for years to come. One of these ambitious programmes is our Vision project. This will define what a society that works for autistic people actually looks like and how we can achieve this vision.
What does a society that works for autistic people look like?
We have already started asking autistic people this question. They range from the people who use our services and the young people who attend our schools, to those with no link to our charity.
We are determined to gather views from as broad a range of people as possible – and we really hope you will get involved.
Ways to take part
Our Big Questions
We are asking some Big Questions about our charity, and I would love to hear your answers to them. I believe these questions will help us to really understand what we should be doing as a charity to achieve our vision of a society that works for autistic people.
The questions are:
What does the National Autistic Society mean to you?
What do you want the National Autistic Society to do in the future?
What could we do better?
What do we do really well?
You can answer these four questions however you want – as a word document, a spreadsheet, a scan of written notes, a drawing, a video, a voice recording; whatever works best for you. You can email your responses to engagement@nas.org.uk
Autism insight panels
We have already begun to get your input into our work. At the start of the year, we established autism insight panels which almost 1,000 of you signed up to – thank you so much. In our first survey to the panel, we asked you what a society that works for autistic people looks like and you gave us a huge range of really important answers. You can find out more about the results of the first autism insight panel here. I'm keen that we keep growing the panels so more of you can have your say. If you haven't already, you can sign up here.
Why get involved?
I have been involved with the National Autistic Society since the late 1990s. In my roles as an MP, a health minister and through my work in the NHS, I have always aimed to ensure the needs of autistic people and their families are understood.
Your input is vital in supporting this ground-breaking project to define what a society that works for autistic people looks like, and the shape of our charity in the future.
It will mean that each time the National Autistic Society takes on a new project, we can ask ourselves, how does this project help us move towards our vision of a future society that works for autistic people.
Thank you
I would like to thank you for being part of our journey and for agreeing to help us shape the National Autistic Society for the future. I will strive to ensure our Vision project succeeds at every stage as we work together towards a society that truly works for autistic people.
Dr Steve Ladyman
Chair
Board of Trustees