Ministers join our latest Understanding Autism session
Published on 14 June 2022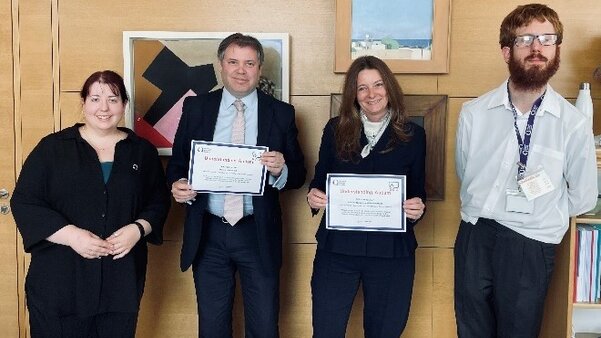 We are pleased to have run an Understanding Autism session this week with the Minister for Care and Mental Health, Gillian Keegan MP, and Minister for Health, Edward Argar MP.
We first started running the sessions, which are always run by autistic colleagues, in 2019 in partnership with the All-Party Parliamentary Group on Autism (APPGA). The sessions are a chance for MPs and their staff to hear directly from autistic people, to get a deeper understanding of autism and to discuss how they could better support their autistic constituents.
Monday's session was delivered by Helen Ellis, our Equality, Diversity and Inclusion Co-ordinator and Leo Capella, our Job Coach. Both Helen and Leo are autistic. They spoke to the ministers about what life can be like as an autistic person, the challenges many autistic people can face getting the right care and support, and the often-small adjustments that can help.
Our ambition is for every MP to take part in an Understanding Autism session. We believe that increasing MPs' and ministers' understanding of autism is a really important step in improving their ability to support and champion the issues that matter to autistic people in Government. We have run a number of sessions in recent years, including one session with 82 MPs in 2019 and another last month with the Secretary of State for Health and Social Care, Sajid Javid MP, and health ministers, Maria Caulfield MP, Maggie Throup MP and Lord Kamall MP.
Helen Ellis, Equality, Diversity and Inclusion Co-ordinator at The National Autistic Society, said: "It was great to welcome the Minister for Care and Mental Health and her fellow Minister for Health to learn more about autism directly from us. It's always a real privilege to be able to share my personal and professional knowledge of autism with MPs."
Leo Capella, Job Coach at The National Autistic Society, said: "It's so important for our elected members of the Government, as well as Parliament, to have direct knowledge of autism from autistic people themselves. I gave the first Understanding Autism talk to MPs in 2019 and I'm pleased to have welcomed many more MPs to our talks since then."
Gillian Keegan, Minister for Care and Mental Health, said: "It was fantastic to learn more about how government can lead the way to better support autistic people, and the steps I can personally take to do so.
Public understanding of autism is vital, and we can all make reasonable adjustments, including in the workplace. We must improve opportunities for autistic people and stop them facing judgement, awareness is central to our five-year, all-age autism strategy. I encourage all ministers and MPs to sign up to a training session to learn how they can help improve autistic people's lives."
Caroline Stevens, Chief Executive at The National Autistic Society, said: "I'm delighted that the Ministers joined our Understanding Autism session with Helen and Leo, two of my autistic colleagues.
Many autistic people face huge problems getting the care and mental health support they need. This is often because of a lack of appropriate services, and not enough understanding of autism and the adjustments that can help people autistic people. That's why it's so important that MPs and leaders within Government have a good understanding of autism, so they can make sure the right services are in place.
It's our goal for every MP to take part in one of our Understanding Autism sessions. This will be crucial to our efforts to create a society that works for autistic people."
Further information