Long awaited SEND Improvement Plan released
Published on 02 March 2023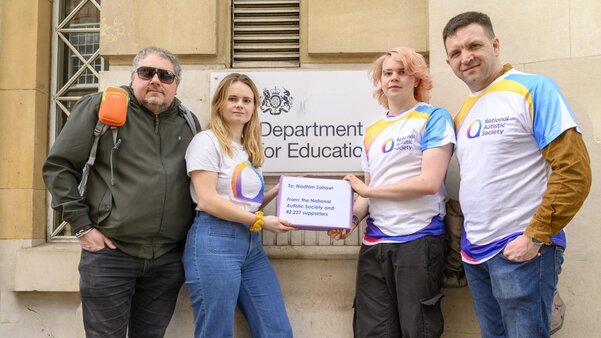 What is it?
Today the Government has published its SEND and Alternative Provision Improvement Plan which aims to improve the SEND (special education needs and disabilities) system in England. This has the potential to impact hundreds of thousands of autistic people and their families. It has been almost a year since the Government opened its consultation for the SEND Review. Since then, there have been 6,000 responses, Including one from the National Autistic Society, as well as our campaigners. These responses highlighted how broken the SEND system is and how it is failing disabled children and young people. After months of waiting, and many delays, we think the Government's response falls far short of what is needed.
What did we do?
In November 2021, we published our School Report which found that the education system is simply not working for autistic children in England and that parents are facing exhausting and sometimes years-long battles to get support for autistic children in school. The report, which is based on surveys of over 4000 parents, carers, autistic children and young people, in Summer 2021, found:
More than a quarter (26%) of parents waited over three years to receive support for their child.
Three quarters (74%) said their child's school place did not fully meet their needs – this had almost doubled since 2017.
Seven in ten autistic children and young people said school would be better if more teachers understood autism.
In February 2022, we handed in our petition to the Department of Education, calling on the then Education Secretary Nadhim Zahawi MP and the Government to invest in autistic children's futures and fix the broken SEND system. An amazing 42,237 people signed this petition – thank you to everyone who joined our campaign.
In July 2022, we responded to the SEND Review consultation. Some of our key recommendations were to:
Introduce mandatory autism training for all school staff
Increase funding for SEND, including training for SENCos (Special Educational Needs Coordinators) and new Alternative Provision schools
Strengthen Care and Quality Commission and Ofsted inspections to improve more effective intervention and accountability.
Involve autistic children and their parents in decisions that are being made about them
Roll back on plans to introduce mandatory mediation, which would add more time to an already lengthy complaints and appeals process.
Increase funding directed at the EHCP process and introduce new standardisation and guidelines to strengthen the process obtaining an EHC Plan.
What is in the plan?
There are a number of changes in the plan which have the potential to be beneficial, these include:
Investing in 33 new special free schools.
Increasing SEND funding by more than 50% to over £10 billion by 2023-24
New guides for professionals to help them provide the right support.
Introducing a standardised and digitised EHCP (Education, Health and Care plans) process and template to minimise bureaucracy and deliver consistency.
Increasing the number of staff with an accredited SENCo qualification in early years settings.
Improving transition to further education by introducing common transfer files alongside piloting the roll out of adjustment passports to make sure young people with SEND are prepared for employment and higher education.
Working with Ofsted and the Care Quality Commission to deliver an updated local area SEND inspection framework.
What are our concerns?
Our main concern with the Governments plan is that, while it has some good parts, it's not enough to fix the SEND system – which is what autistic children and young people need.
Educational Health and Care Plans (EHCPs)
EHCPs are vital to getting the right support in place for autistic children in school. Without these plans, parents lack the legal footing to request reasonable adjustments, and cannot access personal budgets. Statutory guidance dictates that after a request for an EHCP is made, it should take no more than 20 weeks to get the support in place. According to the latest Department for Education figures, just 61% of plans meet this threshold.
The Government has proposed to work with stakeholders to deliver a standard EHCP template, with supporting processes and guidance from 2025 and a standardised digital process for EHCPs. Whilst we welcome these proposals as they have the potential to be beneficial, they do nothing to address the urgent issue of delays to accessing support that autistic children and families face now. To end these unacceptable delays, the Government must target funding to councils.
With regards to digitisation of the process, it is critical that the Government is considerate of potential barriers regarding digital access and makes sure it is user friendly.
Teacher Training
In our report, seven in ten autistic children and young people said school would be better if more teachers understood autism. We are therefore glad to see that the Government is committed to expanding training to/of new staff. They have planned to train up to 5000 early years special educational needs coordinators to 400 educational psychologists. We are disappointed however, that the Government has stopped way short of implementing our recommendation of mandatory autism training for all school staff. This is vital to transform the experience of autistic pupils in classrooms across England.
Mandatory Mediation
We are worried about the planned pilot of mandatory mediation; despite the concerns we raised in the consultation. Forcing parents and families into mandatory mediation, before they are able to access SEND Tribunal courts adds unnecessary delays. As the system is, it if far too difficult and lengthy. If adopted, this change will make it harder for families to get the right support in place for their autistic child.
Conclusion
Overall, the SEND Improvement Plan is a document which acknowledges the problems within the SEND system. Proposals will be some small help to overcome some of the barriers that autistic children and families face. It is, however, not enough to make a meaningful difference to the inadequate SEND system. Ultimately, after years of waiting for vital change to a broken system, parents and autistic children will be left wondering how it improves their situation. We will continue to campaign until every autistic child has the support, they need to fulfil their potential.
Comment:
Tim Nicholls, Head of Influencing and Research at the National Autistic Society, said:
"The SEND system is broken. Autistic children have been left without the support they need in school for far too long.
While we welcome parts of the Government's SEND Improvement Plan, we don't think it's enough to end the system-wide failings holding back 180,000 autistic children in England.
We are pleased to see an increase in funding for SEND, a plan for standardisation of EHCPs and a commitment to workforce and training. But it's disappointing that the Government has stopped short of mandatory autism training for all school staff; which is vital for autistic children to be effectively supported in school.
Ultimately, the plan is not nearly enough and lacks the substance needed to fix a SEND system which is failing autistic children and families. Government must do more - we won't accept a world where autistic children miss out on an education, and families are left exhausted and on the brink of crisis."
Further Information: