Glasgow Kiltwalk
Published on 20 May 2022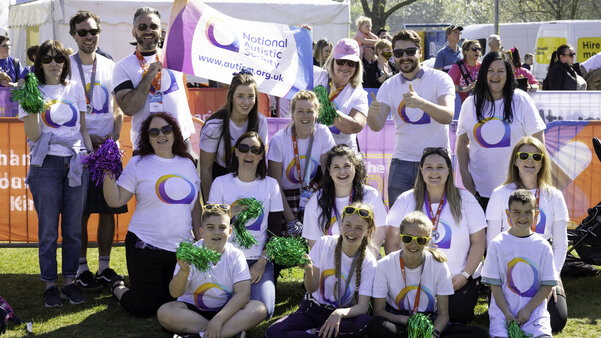 Last month, many of our staff and the people we support took part in the Glasgow Kiltwalk, which was a huge success! Our fantastic team contained over 50 Kiltwalk participants, many of whom walked their way from Glasgow to Loch Lomond to raise money for us!
Special mentions go towards our fundraising team for their fabulous work in supporting the walkers, and to the many Scotland staff who took part or supported autistic people and families taking part. Lots of staff and volunteers were also there at the finish line to act as a cheer squad, with plenty of encouragement and pom-poms included!
Thanks to the support and generosity of everyone involved, we have raised over £16,000 from the event, which is absolutely amazing! The funds raised will be vital in supporting our services in Scotland, and we can't thank you all enough!
Rob Holland, Acting Director of the National Autistic Society Scotland, said:
"The Kiltwalk is an amazing event that allows our fundraisers and staff to get involved together in doing good and raising money for autistic people and their families in Scotland. It was great to see so many people taking part and showing their appreciation for us, and thanks to the hard work of everyone involved, we raised an outstanding amount that will do so much for the people we support. We are eternally grateful for your dedicated support, and we can't wait to do it all again next year!"
If you fancy donning the tartan and taking part, there are plenty more Kiltwalk events throughout the year – visit the Kiltwalk website to find out more.