15th anniversary of our Education Rights Helpline in Northern Ireland
Published on 15 February 2021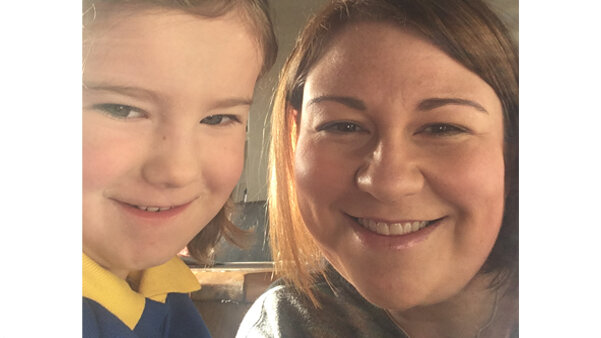 This year is the 15th anniversary of our Education Rights Helpline launching in Northern Ireland. To mark this important milestone, Sharon McDaid, our Education and Transitions Advice Coordinator, blogs about the history of the service and about the difference this support has made to hundreds of families, including Gemma and her autistic daughter Evie.

I've seen many autistic children thrive with the right support and understanding in school - and go on to achieve great things, whether that's living as independently as possible, going onto further education or getting a job. But it can be almost impossible to learn if the school environment isn't right, your teacher doesn't understand autism or you need the intensive support that's only possible in a specialist school.

Too many autistic children are finding themselves in this situation, which is why our Education Rights Helpline was first set up in England and Wales in 2000 and in Northern Ireland five years later.

Our staff and highly trained volunteers have helped thousands of families via our helpline and website over the past 20 years, by giving out general information about educational rights and entitlements, as well as advice on specific topics such as getting extra help in school, assessments, education plans, reviews or school transport.

I've been with the National Autistic Society for almost five years now and I see how many parents struggle to ensure their autistic children have a good education. Parents don't call our helpline when things are going well but all too often, I hear from parents who are worried and overwhelmed. It is a joy to be able to give them the information they need to help ensure their children get the education they have a right to. I strive to redress the balance between families and the professionals who make decisions about what support children are offered.
Some of the parents and carers we speak to have had awful experiences. Some have had to fight for many months, even years, to get their son or daughter into the right school or for just a little extra support. It's an exhausting task for people who may also be facing huge pressures at home. It's these conversations that really underline the value of the Education Rights Helpline. And it's really rewarding knowing each day that you've made a difference, even if it's in the smallest way. Those we support appreciate that education rights staff and volunteers understand what they and their children are going through.

I don't want this blog to be about me very much, so I thought I'd end by sharing Gemma and her autistic daughter Evie's story. Their words underline the importance of this anniversary and the difference the right support in school can make.

Gemma and her autistic daughter Evie's story, in Gemma's own words

"My daughter Evie started primary school in 2019. We had watched Evie struggle in nursery, so we anticipated it was going to be a tough transition to primary school, Evie was already known to the Education Authority's (EA) Educational Psychology team and was at stage three on the special educational needs register. However, there had been no movement from the EA to arrange for any of the teams recommended at stage three to come in and support the school or Evie.

"Within a week of starting primary school, Evie was on reduced hours. We were told it was because there were not enough resources to deal with Evie's needs. As parents, we were panicked, frustrated and honestly didn't know where to start as we naively thought, if help was needed it would automatically be there. We also had heard horror stories online and from other parents of the difficult legal process that seemed intimidating and overwhelming.

"We contacted the National Autistic Society NI Education Rights Helpline. I am so glad that we did, I felt immediately that a weight had been lifted as Sharon explained what the formal process entailed and what we could do together. She also reassured us that we were absolutely making the right choice for Evie and we were not alone in making sure Evie got the provision she needed.

"There have been days where we have been frustrated and depressed at the rejections, the inadequate provision offered, having to re-submit paperwork, the constant fight for Evie's rights to access an education. But the National Autistic Society has been there for us, fully understood our frustrations. The charity answered any question in detail and in language that was not confusing!

"With the guidance and support of the Education Right Helpline, we have the right provision agreed with the EA for Evie without having to go to tribunal. I strongly recommend you contact the service and get advice. I was very much of the opinion that the EA/school must know better than me as they have the experience I do not. But this is not the case. When you know your child the best and you are watching them struggle, it is so important you get the right support.

"The helpline gave me the knowledge and advice to have the confidence to keep going until Evie had the support legally recognised in her statement of SEN. I cannot thank you enough for being with us throughout this journey."
Further information
Find out more about our Education Rights Service, including our Education Rights, Education Tribunal Support and School Exclusion helplines.
Our helplines and advice services rely on donations, grants, fundraising and corporate partnerships. You can help us continue being here for autistic people and families by donating.