Autistic Star of BAFTA-winning Film Showcases New Fringe Show
Published on 01 August 2022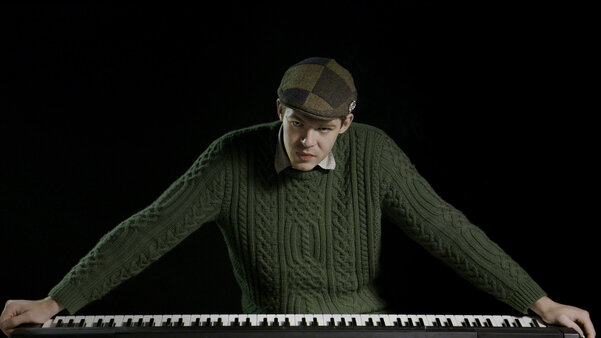 The star of a BAFTA-winning short film is performing at the Edinburgh Fringe in August.
Edinburgh-based Sean Logan, who featured in the Scottish BAFTA-winning 2021 documentary Harmonic Spectrum, is bringing his unique style of music and musings to Scotland's capital, with tickets now on sale.
Full Spectrum is running over five dates in August, with performances taking place at the Pianodrome at the Old Royal High. The show will feature Logan's eclectic mix of funky keyboard genres and ruminations on life as a neurodiverse musician.
Harmonic Spectrum focused on Sean using the Piano to navigate life on the Autistic Spectrum. The documentary short was produced and directed by Austen McCowan and Will Hewitt, and has won Best Short Documentary at the Scottish Mental Health Arts Festival and the Optical Sound Award at the Flatpack Film Festival in addition to a Scottish BAFTA.
Tickets and more information about Full Spectrum are available on the Edinburgh Festival Fringe website.
Sean Logan, the creator and star of Full Spectrum, said:
"I'm so happy to be doing Full Spectrum, I've been waiting my whole life for this! It will be a mix of music and comedy while also going through different genres, from baroque piano to synthesiser licks. It certainly has taken some practice to not hurt my fingers! I'll also be talking about my journey getting here, and to bring to light how beneficial the creative industries can be for neurodiverse people.
I started playing the piano when I was six, and I've always wanted to perform at the Fringe since I was a kid, so I'm very grateful. Full Spectrum is my first Fringe show and I've spent a long time trying to get this together, so I'm here to try my heart out and I hope to carry the sentiment from Harmonic Spectrum into this show.
I hope the show inspires people to be a lot more open with their creativity and encourages them to get out there and show people what they can do, and hopefully it also gives them a new outlook on being neurodiverse and on the autism spectrum."
Rob Holland, Acting Director of the National Autistic Society Scotland, said:
"Sean is a remarkable musician with a unique perspective, so of course he is a natural fit for the Fringe!
This show is really a fantastic showcase for Sean's thought-provoking outlook on life as an autistic person accompanied by an incredible musical performance.
We hope that this show will inspire more autistic people to pursue creative avenues, which will help change attitudes and challenge assumptions."
Thursa Sanderson, Chief Executive of Drake Music, said:
"Drake Music Scotland is thrilled to be producing Sean Logan's show and supporting his first foray into the Edinburgh Fringe.
The Pianodrome is Sean's natural home and audiences are sure to be swept off his feet by the sheer exuberance of this hilarious raconteur and keyboard wunderkind."