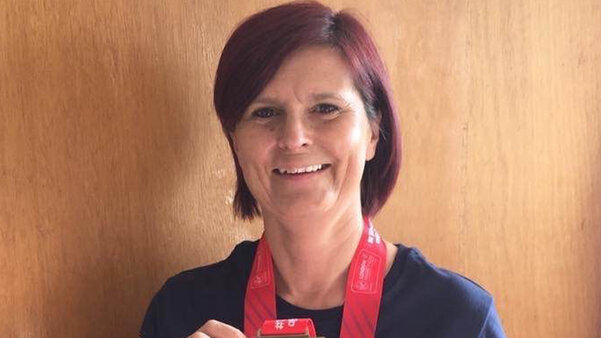 I've been running for about 20 years and enjoy all distances from 5k – Ultra. For the past 2 years I have been fundraising for the National Autistic Society as my 11-year-old daughter Kizzy was diagnosed in January 2019. She is also a fab runner and one of my biggest supporters. Last year I was on the London Marathon and Royal Parks Half team, as well as completing a 100km ultra, Brighton Marathon and various other stuff.

2020 started with a pretty full race diary. I managed to go to the Marathon Talk Run Camp in February in the Peak District and run the picturesque Carsington Water Half Marathon (which was a training run in my marathon plan) but after that the wheels fell off the 'real' running world as we went into lockdown.

Not one to sit around I have kept running and as I am a member of a number of running Facebook pages I have seen a variety of 'real world' race directors move into the realm of virtual runs. Some of these were quite challenging but they appealed to me and I thought they might give me more opportunity to continue my fundraising. One in particular was P24 organised by the brilliant Rik Vercoe at Phoenix Running. This involved running 1 mile on the hour, every hour, for 24 hours. The running was actually quite straightforward but you also have to factor in nutrition and 'to sleep or not to sleep' (I didn't bother). Also 24 miles is so close to a marathon why wouldn't you? So I started my challenge with a 'parkrun' at 8am on the Saturday morning, joined by Kizzy who also went on to run 4 more legs that day and my final mile at 7am on 21st June. The online community support was brilliant with all 1000 of us runners checking in at the end of each mile, from all over the world, virtual marshals giving encouragement and everyone supporting each other to continue when it was dark and sometimes wet. As this was a more unusual virtual run I promoted it on Facebook and many of my supporters sponsored me over the course of the weekend bringing in another £370.

I also completed the Virtual Race to the Stones, I ran my 100km across 5 days then added another 20km for luck over the weekend. Looking forward I will be running 11km a day for 7 days at the end of the month for the P7in7 and have registered for the P24 (Twist), which happens to fall the day the clocks change in October – the twist being you run 25 miles in 24 hours! Just because we can't physically meet up to attend events at the moment doesn't mean fundraising has to stop – I know virtual isn't quite the same but if you choose wisely both you and the National Autistic Society can end up winners 😊.
Be a home hero like Tess!
You can sign up now and take part in your very own virtual running challenge. If you fancy something different, have a look below to see what else you can do from home.