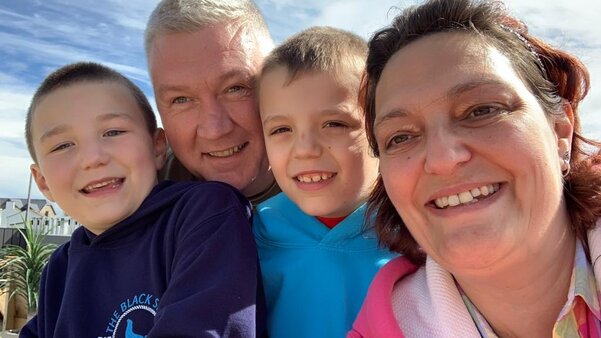 We caught up with Jason Swinyard, fundraising hero and father to Ethan, who is autistic. Jason is the owner of the MG-Alfa spares company, which stocks and sells spare parts for MG and Alfa Romeo cars.
This year Jason went the extra mile (or 82 miles, to be exact!), by organising his second Car Run. Participants took to the wheel, driving across three counties, raising an incredible £4460 for our charity.
We chatted to Jason more about his fundraising journey, what drove him to organise this event for a second year in a row, and how he adapted his challenge to meet the current coranavirus restrictions.

What inspired you to take on the Car Run and raise money for the National Autistic Society?
We did the Car Run last year, which we found out about through Facebook and social groups, and decided to do it again this year.
I chose the National Autistic Society as my son Ethan is autistic. He was diagnosed when he was about three-years-old. He's now seven-years-old. He's verbal - extremely verbal in fact! He's very keen on routine, and needs everything to be quite regimented. He also engages in some 'stimming' behaviour, like rocking up and down in his bed. He's one of a kind and he's wonderful.

How did you complete your challenge and what did it involve?
Everyone in the MG world has a charity Car Run every year, so it was relatively easy to organise. I chose 2 August 2020 as this year's date, making sure it didn't clash with any other big events in the area.
We started by creating a route map of the run, which we gave to everyone taking part. Participants turned up in their classic car to do the run. Everyone was given a plaque to put on their car, so we knew who was taking part. These were provided free of charge, saving us a lot of money.
We also organised specific stops along the way, from stately homes to cafes. Last year we actually stopped at Cafe Autisan in Whalley Abbey. We'd pre-warned the staff beforehand so they knew what to expect. Literally, 50 cars turned up, and all the drivers queued up to have a piece of cake and a brew.
We also included a raffle, as part of this year's fundraising. One of my customers from work actually donated his car to the raffle. Ethan drew the raffle on the day, which was great. As it turned out, the ticket he pulled out belonged to the previous car owner, who ended up winning back his car!
I used to work as a printer, so I was able to produce the raffle tickets, with help from a local printer. I was able to sell tickets in person at an MG show earlier this year. I think it helped that I'm 6'5 feet, so I'm easy to spot, and my selling technique is just telling people 'you're buying a ticket!'
I'd like to say a big thank you The GARAGE LTD, ZIPP DESIGN, RAPSPIDERWEB, KRAKIN CATERING LTD, and MARK HAUGHTON, who supported me throughout.

How did you adapt your challenge to meet coronavirus restrictions?
When the coronavirus restrictions kicked in around March, I couldn't go out and sell tickets anymore. Everything was pushed online and we had to sell tickets via social media and online groups.
By the summer, we'd started to build up some momentum, as the lockdown restrictions were easing. However, several MG races had already been cancelled, and I was worried that the Car Run wouldn't go ahead.
We had a think about it, and decided to go ahead with the event. The run is 82 miles in total, and all the cafes and usual stops on the way were closed. Obviously, people needed to be fed. We hired a caterer (Krakin Catering), who made picnics for each driver to take in their car and enjoy on the road. There were about 45 cars in total. Drivers only used stops if they needed the toilet, so everyone was able to stay safe. It went really well and everyone enjoyed their picnic. We made sure that the event was safe. Participants remained in their cars and respected social distancing rules when using the stopping points.

What advice would you give to others planning to take on a fundraising challenge?
Don't give up. If you're going to do it, do it, and just stick to your guns. Don't let other people sway you.
When it comes to fundraising, use all the contacts you have. You'll be surprised by how much help you receive.
The advice I'd give to other fundraisers is 'Don't give up. If you're going to do it, do it and just stick to your guns. Don't let other people sway you.'