Max, Technical Support Professional at BT and participant in our Autism at Work programme.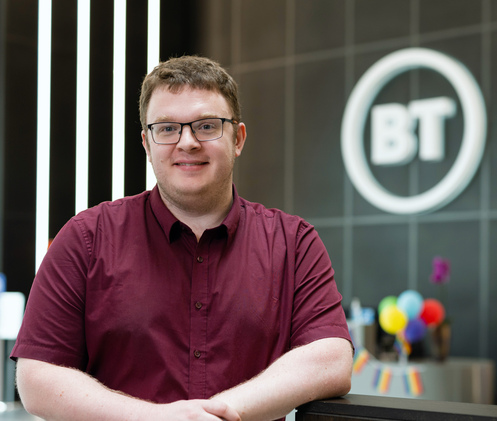 Max, Autism at Work programme participant
"I went into the Autism at Work programme on a whim and it ended up transforming my life."
Only 22% of autistic adults are in any kind of employment. But over three-quarters of unemployed autistic adults say they want to work.
We're empowering autistic people to access careers they deserve through our Autism at Work programme.
When Max was diagnosed as autistic in 2020, he struggled due to lack of support in his job. He found it difficult to focus on his work, as he worried about the role.
Through the Autism at Work programme, Max found a job where he finally feels settled and can develop professionally.
The programme provided training for managers and colleagues, improving autism awareness at Max's workplace. His job coach, Leo, had monthly calls with Max and his manager.
Now, Max is happy in work for the first time and feels he could gladly stay in this role for the rest of his working life. He can focus on getting on with his job, without worries of struggling in the role.
You can help us give opportunities to more autistic jobseekers like Max.
We know that the current financial climate and rising costs are presenting challenges for many people across the country right now. Whatever you are able to spare will make a real difference to our work to transform the lives of the 700,000 autistic people and their families across the UK.
How your donation helps
£2 per month
could help give vital advice and guidance about autism by keeping our website up to date with the latest information.
£5 per month
could help bring a sense of belonging to an autistic person by ensuring our online community is there for everyone who needs it.
£10 per month
could ensure a local branch is there for autistic children and their families to turn to when they need us most.