Tips for an autism-friendly Halloween
Published on 25 October 2023
Halloween is an exciting time of year for many autistic children and adults, but it can be difficult for those who struggle with unexpected changes or who have sensitivities to noise, touch and light.
The unfamiliar treats and sweets, scratchy costumes and unpredictable nature of the day can trigger a lot of anxiety and leave people feeling completely overwhelmed.
Around 1 in 100 people are autistic, so good planning and good communication can make a huge difference*. Whatever your plans, simple changes and preparations can help to ease stress and anxiety.
Thanks to the help of our Facebook community, we have put together a list of handy tips to help autistic adults, children and their families have a 'wickedly' good time this Halloween.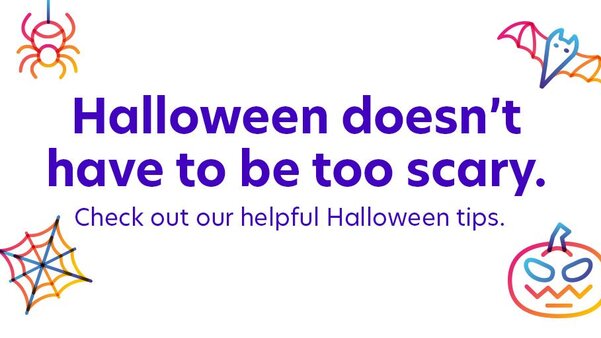 Create your own Halloween fun
Have a spooky movie day and eat Halloween themed foods.

Dress up, stay indoors and get some glow-in-the-dark toys to play with.
Pick a costume that is comfortable
You don't always have to fit in with the 'scary' theme.
Choose a costume that is comfortable, or something you or your child is passionate about.
No tricks, just treats
If you or your child finds walking house-to-house in the dark challenging, buy your own sweets.

Stay at home and share out the treats to enjoy with no tricks!
Pre-arrange visits to a limited number of houses
If your child struggles with unexpected events, try pre-arranging visits to some houses in your neighbourhood.

This is a great way to collect the different parts of one bigger thing, like a LEGO model or small toys as part of a set.
Have a low-key Halloween
If you don't like trick or treating, why not place a 'polite' sign outside requesting that no trick or treaters knock on the door.

Instead, you could decorate the living room and carve pumpkins.
* It's important to remember that every autistic person is different so they must be involved in planning.