Our Vanguard School welcoming first students this week
Published on 20 January 2020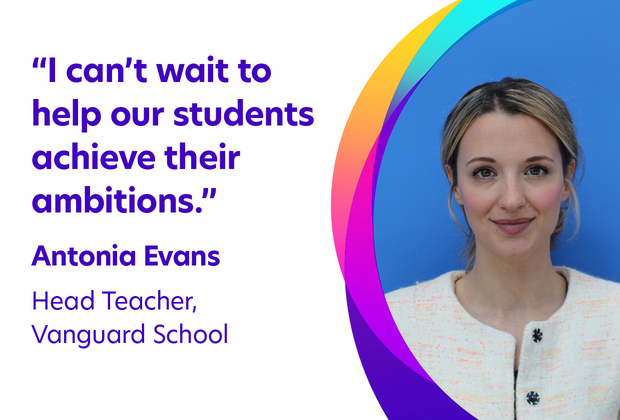 We are incredibly proud to be opening our Vanguard School this week and welcoming our first students. A huge thank you to the many people who worked so hard to make this possible, especially local parents.

Our school will provide specialist education for autistic children aged 11-19 from Lambeth and neighbouring boroughs, who are looking to go on to further education, training or employment – but who haven't been able to get the support they need in mainstream school. It was developed because of Lambeth Council recognising the borough needs more autism-specific education services.

We are currently accepting referrals for April and September 2020. This is our ninth school and is the result of a shared vision and years of joint working by many individuals and organisations, including local parents, Lambeth Council, and the Department for Education.

Our school was designed and purpose-built for autistic children by Pozzoni Architecture on a site in Lollard Street in Kennington, identified by the council and our charity as a suitable location. It has capacity for up to 78 students. It will grow gradually, with a phased intake of students, starting with students attending in years 7 and 8. As well as high-quality learning facilities, the two-storey, 2,500m2 building has 14 classrooms, a sensory room, library and two therapy rooms.

The building also has a multi-use hall which will be shared with the local community out-of-hours, along with a kitchen, storage and community break-out spaces.

Antonia Evans is our school's head teacher, after joining from University Technical College (UTC), where she was Principal and previously led their special educational needs provision.

Every autistic child is different and Antonia and her specialist team will build the curriculum around each student. They will focus on helping young people to achieve their qualifications, while also building their wider knowledge and life skills so they can be as independent as possible in adulthood and prepare for further education and employment.

Antonia Evans, Head Teacher of the National Autistic Society's Vanguard School, said: "We are incredibly proud and excited to welcome our first students.

"We've been preparing for this moment for a long time. I can't wait to get going and help our students to achieve their ambitions.

"A huge thank you to the many, many people who have worked so hard to get us to this point, especially Lambeth Council, the Department of Education and, most of all, local parents. Without such strong backing and determination, our school would not be here."

Fleur Bothwick, Chair of the National Autistic Society's Vanguard Schools Local Governing Body and NAS Academies Trust Board Trustee, said: "I'm delighted that our school is ready to open.

"There is a real need for this type of specialist autism support in the borough. Now it's in place, we can start making a difference to generations of children and young people on the autism spectrum and their families. Our school will also be a huge benefit to the local community, and to other schools, services and employers.

"Thanks to everyone who has worked so hard over the years to make this happen: other parents in the borough, the National Autistic Society, the Department for Education and the council."

Kirstie Fulthorpe, Director of Education at the National Autistic Society and Managing Director for the NAS Academies Trust, said: "This is the National Autistic Society's ninth school, over 50 years after we opened the world's first ever school for autistic children.

"This is a huge moment for our charity, the council and of course all the parents who've been working hard to make the school a reality.

"Now it's time to get to work and give local autistic children the best possible education and chance in life."

Cllr Jennifer Brathwaite, Lambeth council's Deputy Leader (Children & Young People), said: "I'm delighted that we've got to this stage with this important project, and the Vanguard School is ready to welcome its first pupils.

"Lambeth already has a number of excellent schools that cater for pupils on the autism spectrum and all of these are at full capacity and rated 'Good' or 'Outstanding' by Ofsted. We are therefore very pleased to have the Vanguard school to increase capacity.

"This means that we can avoid children having to travel outside the borough to get the education they need.

"This new school has been spearheaded by local parents and has enthusiastic support from the local community. The council has been involved in the joined-up working with the National Autistic Society, parents and other bodies from the start – including identifying a suitable location."

Find out more on our Vanguard School's website.