Marking Black History Month
Published on 26 October 2021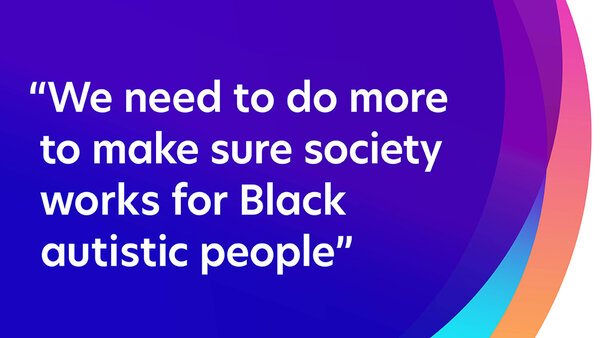 To mark Black History Month, we wanted to update you on the commitments we made last year, in response to the Black Lives Matter movement.
October is Black History Month, which celebrates the enormous contribution Black Britons have made to society. We will be highlighting Black autistic people's experiences throughout the month on our social media and internal communications channels.
We also thought it was important to talk about what we're doing to help tackle the systematic injustices Black people face within society, particularly given the commitments we made in the wake of the protests around the world following the tragic death of George Floyd in the United States in 2020.
Autistic people and their families face many challenges getting a diagnosis, support and understanding. But our research has shown that autistic people and families from ethnic minority groups can face double discrimination, due to their ethnicity and disability (National Autistic Society, 2014), and that this can make things even harder.
Until society works for Black autistic people and those from ethnic minority groups and their families, we won't have succeeded in our mission. So, here's what we're doing:
Our new strategy
We are currently working on a new strategy for our charity, which is split into four parts:
Schools and Children's Services
Adult Social Care Services
National Services
Corporate and Professional Services.
Within each of these parts, we are committed to developing an Equality and Inclusion plan, so we can make sure we are doing the best we can for Black autistic people and other ethnic minority groups we support, for their families and for our staff and volunteers. In order to be effective, these plans will acknowledge the different as well as the shared experiences of people from all ethnicities. As part of this work, we have hired a diversity and inclusion specialist consultant who has been working with us on reviewing our policies, recruitment and staff culture approach.
We have launched our REACH staff network (Race, Ethnicity and Cultural Heritage) that meets to discuss our evolving diversity strategy, future plans for cultural celebrations and to work collaboratively with senior management on our approach to recruitment and retention, including talent succession.
We have also been working to ensure that we are representative of the diversity of the autistic community, for instance by making sure that the stakeholder panels that interviewed the candidates for Trustee roles (including our incoming Chair) had fair representation.
Campaigning
It's vital that all governments in the UK identify where there is discrimination and say what actions they will take to end it. We called for this to be included as a key action in the new national autism strategy for England, which was published in July. We were pleased to see the strategy commit to developing a new, nationwide public understanding and acceptance initiative, working with autistic people, their families, and charities like ours. This initiative will work to improve understanding and public attitudes towards autistic people and promises to recognise the diversity of the autistic community, including Black autistic people.
The Secretary of State for Health and Social Care, Sajid Javid, also recognised in his foreword to the autism strategy that the Government's goal must be making sure autistic people from all backgrounds, including ethnicities, get the support they need to live full and happy lives. We will hold the Government to account on this.
We'll now be working closely with the Department for Health and Social Care to develop a public understanding campaign that understands the diversity of autistic people and improves society for autistic people from ethnic minority groups.
We are also calling for governments in Scotland, Wales and Northern Ireland to think about what they can do to end discrimination against people from ethnic minority backgrounds.
Sharing diverse stories
We will continue sharing diverse stories from autistic people and their families by highlighting their experiences of services and support. You can read our Stories from the Spectrum here.
New branches
We also want to think about what we can do now, before our new Equality and Inclusion strategy is finalised. Thanks to newly secured funding, we are working on a series of new national volunteer-run branches. We have started talking to autistic people and their families from ethnic minority groups about how some of these branches could focus on particular demographics. We will only do this if people tell us that it would help.
When we spoke to people from ethnic minority groups about our online branches, we received mixed views. One of the strongest views was that a 'BAME' branch would not be appropriate and we should instead launch a range of branches catering to people from a range of different ethnicities and communities. We had interest from some kind and enthusiastic individuals who wanted to do this but unfortunately, they were unable to complete the process of leading full online branches because of the impact on their lives from the coronavirus pandemic.
We have now launched our first five online branches, which are open to people of all ethnicities, and are inviting anyone who would like to be involved with setting up an online branch to support autistic people and/or families from ethnic minority groups to contact us.
Caroline Stevens, Chief Executive at the National Autistic Society said:
"We stand against racism and all forms of discrimination. We know we need to do more to make society work for autistic people from ethnic minority groups.
"Getting a diagnosis and the right support is often a huge battle. Our research suggests that it's even harder for autistic people and families from ethnic minority groups.
"We are campaigning for change and looking at how we can do better too, with support from our new Race, Ethnicity and Cultural Heritage staff network. We are also working on a new organisational strategy to make sure we're doing the best we can for autistic people from ethnic minority groups and their families."
Tell us your story
Please get in touch with stories@nas.org.uk if you want to share your experiences, or ideas about what we should do in this area.