Our new Autism Inclusion Award
Published on 13 October 2021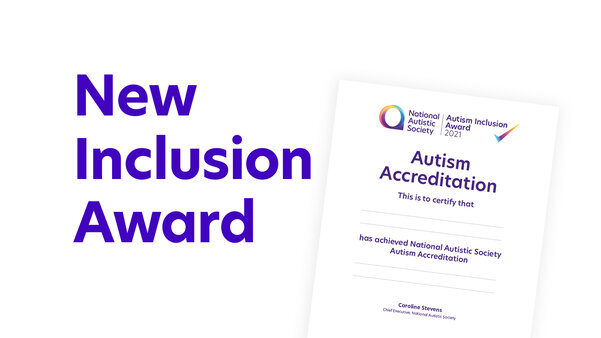 Today we've launched our new Autism Inclusion Award for mainstream schools and education settings. The new award recognises mainstream education services who are working hard to support and educate autistic children and young people.
Our 2019 Not Enough report found that fewer than half of autistic children were happy at school, and 40% of parents said their child's school place did not meet their needs. We hope the award will help autistic people and their families to identify educational settings that go the extra mile to support their needs and help them to access good quality education.
Each recipient of the award is held to the high standards of the Autism Education Trust's Standards and Competency Frameworks, which set out steps and requirements for how settings can better support autistic students in their care. The Autism Inclusion Award is aimed at mainstream providers. And we have a separate Autism Specialist Award for specialist settings. The first organisations to receive the new award are: Arlesdene nursery and pre-school, Holy Trinity primary school, and Rye Park nursery school centre, which are all based in Hertfordshire.
You can find out more about the award and how to apply through our Autism Accreditation suite.

Christine Flintoft-Smith, Head of Autism Accreditation at the National Autistic Society said: "We're really pleased to announce the launch of our brand-new Autism Inclusion Award.
"The award will recognise the work mainstream schools, nurseries and other settings that go the extra mile to help autistic children and young people.
"We've worked in partnership with The Autism Education Trust to lay out clear steps and requirements that providers must take and meet to achieve our Autism Inclusion Award. We want to support education professionals to give the best possible care and support to autistic children and young people, supporting their journey through education.
"We hope to have many schools, nurseries and educational settings of all kinds apply for our award and that we can work together to give autistic children the best possible chance in life."
Sarah Broadhurst, Director of the Autism Education Trust (AET), said: "We are delighted that the award is based on our Autism Standards and Competency Frameworks. These two resources have been used with great success by education leaders and practitioners nationwide to audit their settings and create an action plan for improvement.
"It's great timing as well because we have just released a complete update to both frameworks which are now up to date with the latest research and current understanding of autism. We work very closely with autistic people and parents of autistic children and our two frameworks, like all our resources, have been approved by the AET Autistic Young Experts panel, a group of autistic young people who advise our organisation.
"I think that there is a great need for this award as parents are increasingly aware of the difference appropriate support can make to their autistic children's life. I hope many schools and education settings will apply and commit to the high standards outlined in our frameworks."
Further information