NEUROSTAGES festival announced
Published on 07 September 2021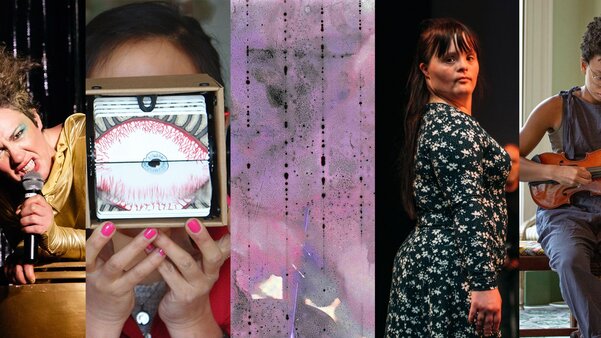 We have been supporting our partners National Theatre Scotland on NEUROSTAGES – a hybrid online and in-person festival celebrating and exploring neurodiverse artistic practice with a host of exciting artists and creatives.
Streamed from the Centre for Contemporary Art in Glasgow on 15 & 16 October festival passes are now on sale on a pay what you can basis.
Curated and hosted by Aby Watson and Rachel Clive on behalf of the Scottish Neurodiverse Performance Network, the festival will feature two days of in-person and streamed performances, film, workshops and discussions from a host of exciting autistic and other neurodiverse artists.
Rylan Gleave, Simone Seales, Hannah Yahya Hassan and Andrew Gallagher will also be sharing the ideas which they have been developing as part of the NEUROSTAGES mentorship launched earlier in the year.
NEUROSTAGES marks the final phase of Limitless, a collaboration between ourselves, Royal Conservatoire of Scotland and National Theatre Scotland that explores a framework for the engagement of autistic people in creative activity as artists, audiences and participants.
Nick Ward, Director of National Autistic Society Scotland said:
"We're really excited to partner with National Theatre Scotland and the Royal Conservatoire of Scotland on the 'NEUROSTAGES festival'. Despite there being 56,000 autistic people in Scotland, opportunities for autistic artists can be few and far between leading to their stories and experiences often being on the margins of the creative industries. NEUROSTAGES offers a wonderful opportunity to address this by allowing autistic and other neurodivergent artists to connect, develop and perform."