'it's everyone's journey' - making transport more inclusive
Published on 25 February 2020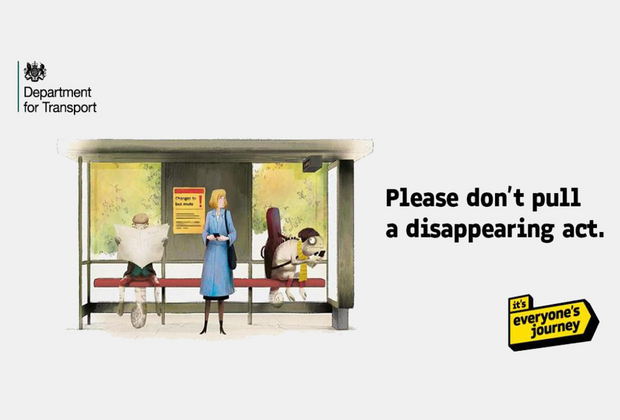 Public transport is at the heart of modern life. And at the National Autistic Society we want public transport to be truly inclusive and disabled people - including autistic people - to be able to travel as confidently as other passengers.
We are supporting the Department for Transport's new campaign, 'it's everyone's journey' because you have told us how important it is to make transport more autism friendly. Our research found out that 75% of autistic people say that unexpected changes, like delays, diversions and cancellations, make them feel socially isolated and 52% of autistic people said that a fear of experiencing unexpected changes has stopped them from going on a bus or train. As we highlighted in our Too Much Information campaign, autistic people can feel anxious about getting on public transport, so much so that they may be unable to leave the house at all.
Read more about our why we are supporting the campaign.

The research behind the campaign shows that our unconscious behaviours can have an impact on disabled passengers.
The campaign is encouraging everyone to make small changes to their behaviour when travelling, such as:
Be prepared to give up a priority seat
Try not to use priority spaces when other people might need them
Be prepared to help each other
Try to keep the noise down
Be patient with each other
Don't charge through busy platforms
Respect all accessible toilet users
We are working with the transport sector and other partners of the campaign including Gatwick Airport. Gatwick Airport was awarded the National Autistic Society's prestigious Autism Friendly Award in 2016. Since receiving the award Gatwick has trained staff to understand the needs of autistic travellers so they can offer appropriate support when it's needed. They also provide a calming sensory room in the departure area of the North Terminal and assistance lanes through security to help ease some of the stresses of the journey. Visual guides are available on Gatwick's website, helping autistic people familiarise themselves with the layout of the airport, so they can plan their visit in advance, helping to reduce travel anxiety. Gatwick were also the creators of the Hidden Disability Lanyard back in 2016 which has since been adopted by all UK airports. The National Autistic Society's Autism Friendly Award team continue to work with other UK airports including Birmingham, Bristol and Edinburgh.
Gatwick Airport said:
"We want to make sure everyone can access the airport and have a pleasant and stress-free visit. Our experience working with the National Autistic Society to achieve the Autism Friendly Award has been fantastic and helped open up our services to even more families."

We hope the campaign will encourage us all to make the changes needed to create a more supportive travel environment for disabled passengers.
To find out more about the campaign,
visit gov.uk/everyonesjourney
#ItsEveryonesJourney