Making the Duke of Edinburgh Award more accessible
Published on 17 June 2022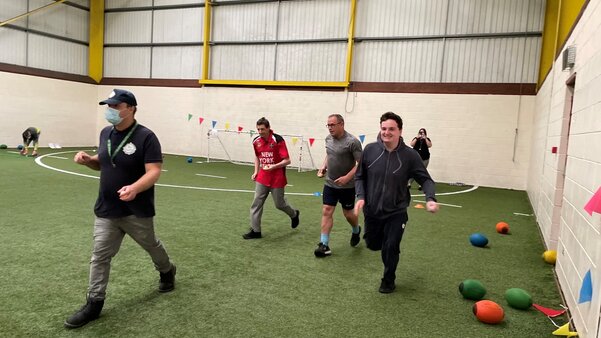 We are excited to be launching a Duke of Edinburgh Award programme specifically for autistic people, first as a pilot for people in our schools, services and branches across the North of England. If our pilot is a success, we hope to roll out the programme to people in our services across the country.
Many autistic people, especially those in specialist schools or services, miss out on the chance to get involved in the Duke of Edinburgh Award. This is often because of a lack of appropriate support and adaptions. Autistic people should have the same opportunities as everyone else and we hope our pilot will address many of these barriers. We want to empower autistic people to take on this fun, sometimes life-changing experience, and make the most of opportunities to discover new interests and talents.
The Duke of Edinburgh Award is the world's leading youth achievement award for 14 to 24-year olds. It aims to inspire, guide and support young people in their self-development and recognise their achievements. Young people design their own personal Duke of Edinburgh programme, choosing a challenge under each section of the Award: volunteering, physical, skills, expedition. The activities they choose vary enormously – from helping out in a charity shop to taking up Taekwondo, beekeeping and playing esports – and reflect the diversity of young people's interests.
Our pilot project will make the Award more accessible by offering an inclusive and supportive environment that is tailored to the individual needs of the young people taking part.
We will be delivering the project in our schools, services and branches in the North of England. We hope it'll be a huge success and that we'll be able to offer the Award through our schools and services in other parts of the UK in the near future.
Helen Storey MBE, Duke of Edinburgh Award Manager at the National Autistic Society said: "We want to create a society that works for autistic people, which means ensuring equal access to opportunities like the Duke of Edinburgh Award. It's a fantastic opportunity for people we support in our schools, services and branches in the North of England to build and develop their personal, social and emotional skills.
"It's fitting that this news comes on what would have been the 101st birthday of the Award's late founder, HRH Prince Philip, Duke of Edinburgh.
"I hope autistic young people from across our schools, services and branches in the area will embrace the Award and enjoy a fun and highly worthwhile experience that builds life-long confidence and helps develop useful skills for life and work."
If you or your family member are part of our schools or services in the North of England and would like to take part in the Award, or would like to find out more, please email: helen.storey@nas.org.uk