Autistic residents win gold at Olympic celebrations at National Autistic Society Scotland service in Catrine
Published on 23 August 2021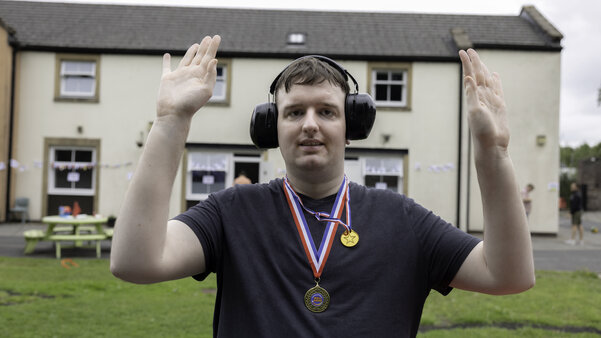 Autistic people at the National Autistic Society Scotland service in Catrine Bank have been celebrating the recent Olympic Games and upcoming Paralympics by holding their very own sporting event complete with medal ceremony.
There are 19 autistic adults at the service all of whom have substantial needs and receive 24 hour care and support from a team of dedicated care workers.
The Olympic Games involved lots of different activities including Speedwalking, Basketball, Hurdling, football, shot put (with bean bags) and bowling.
Head of Services, Peter Jung said:
"It has been a challenging year for us all and this is especially true for the people we support, some of whom have only just started to see their families again following Covid-19 restrictions. It was great to see people we support and staff enjoying the Olympic games and getting those all important gold medals."
The National Autistic Society Scotland supports autistic adults across Scotland and its largest development is in Catrine in Ayrshire.
Recently, the charity has transformed its education provision at nearby Daldorch House School in to a service for autistic adults, complementing the existing support in nearby Catrine Bank.
Peter Jung added 'Despite these tough times we are excited about the future of our service in Catrine not least with the transition of Daldorch House School into a service for autistic adults. This will enable us to better meet the needs of people we support now and into the future. As we move forward on this transition we are recruiting for a number of roles so do get in touch if you're interested."
The charity is currently recruiting for a number of care and support roles for the transformed service and interested locals are encouraged to keep their eye on the website for further details.
You can read more about our services at Catrine Bank here: https://www.autism.org.uk/what-we-do/adult-residential-services/scotland/catrine-bank