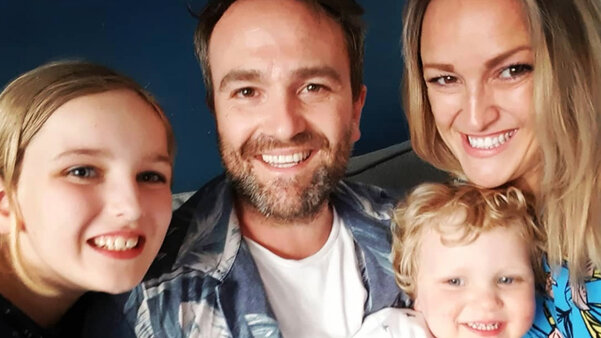 Meet Sam Holt, a musician and digital tech worker, whose Facebook Live fundraising gig struck a chord with our charity.
Sam's three-year-old son Bodhi was diagnosed as autistic earlier this year. This prompted Sam to put his musical talents into play and organise a Facebook Live gig, in aid of the National Autistic Society.
We chatted to Sam about Bodhi's diagnosis, why he chose to fundraise for our charity, and the perks of playing online gigs.
Why did you choose to support the National Autistic Society?
My son, Bodhi, is autistic and was diagnosed during the first lockdown. We couldn't really go anywhere or do anything so Bodhi wasn't getting the support he needed. We felt a real sense of helplessness and hopelessness.
The National Autistic Society website and community were great resources. They helped us when we didn't really know where to turn. The charity became close to our hearts, due to the work it does - changing attitudes towards autism in society. We want Bodhi to grow up in a world where he's not only accepted, but celebrated.

Tell us about your fundraising challenge. What did it involve?
Before the pandemic I was going out most weekends, gigging at weddings, parties and pubs, but obviously this all stopped.
When the first lockdown struck, I began playing on Saturday nights on Facebook Live from our front room. I was mainly keeping myself amused but it also brought some joy to my family and friends, as they'd tune in and request songs.
When Bodhi got his diagnosis, I thought I'd put all this to good use and raise some money. So, I set up a Facebook Live event, dedicated to fundraising for the National Autistic Society. I enlisted the help of my brother, Dan and friend, Simon who are brilliant musicians. I thought that by adding a couple more acts to the event it would extend the reach and therefore raise more money. Thankfully, it did!

Do you have any tips for fellow Facebook fundraisers?
I really recommend using Facebook Live because the fundraiser button is so simple to set up and it's easy for the audience to donate. They don't even need to leave the performance. It's seamless.
Promote the event as much as you can on social media and encourage your friends and family to share the event too, especially when the event is live - so people can 'wander' in, enjoy the music and donate.