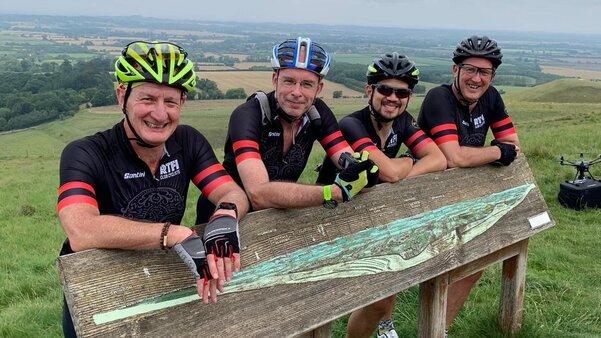 Raising funds for any cause is a fantastic project to undertake and for our activities over the next 10 days we're riding a total of 500 miles. We began our journey by participating in the Virtual Prudential Ride London with a 100 mile route around the "White Horse Challenge", taking in the scenery of Wiltshire.
Our small group has been riding together for a few years and here we met up early in the morning for what turned out to be a full day of adventure. Certainly a challenge and wholly fitting as a very special beginning to two weeks of riding and encouraging our friends and families to contribute to the National Autistic Society.
We each have personal reasons to engage. Be they family members who face daily challenges, a friend whom we simply love to see tackling new activities, or due to our jobs, witnessing the skill and gifts people with autism can bring to specific workplace environments. Finally of course to enjoy the vibrancy and sights that this glorious part of the country has to offer. Steep hills, thrilling descents and amazing vistas as fields swept by and the miles rolled onwards. By the end we were tired (ha ha… exhausted to be truthful!) but also filled with a sense of achievement. Seeing the initial donations coming in during the day was an equally great feeling.
Being able to contribute our time and enthusiasm as well as friendships is such a pleasure and we sincerely appreciate the incredible work that National Autistic Society does all year round to enhance and assist those who live with autism.
We now head back to our homes across the country to continue our efforts to raise awareness and to encourage others to take part and help the Society wherever and however they can. 150 miles to go!
Oscar, Eric, Adrian and Nigel