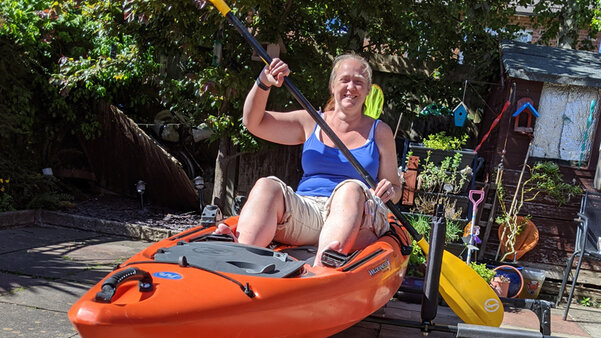 All aboard for the 7k for 700k challenge with Jo, Dave, and Caitie-Lou, AKA the Mc Trio! The intrepid mother, father, and daughter trio used their canoeing skills to put together and complete their challenge on a land-based canoe.

We were joined by Jo, who chatted to us more about the inspiration behind this oar-some idea, thinking outside the box (or canoe!) when it comes to fundraising, and why imagination has no upper age limit…
Why did you sign up to 7k for 700k?
I took part in the event last year and ran from my place of work to home. At the time, I worked with a fantastic autistic man who communicated using Makaton signs. I'd worked with him for several months.

On the day of the 7k challenge, I remember reaching the 5k mark. I could smell coffee from a nearby coffee shop and it was the most amazing smell. I was so tempted to just end the challenge and go inside for a coffee. I was then reminded of the man I worked with, of all the challenges he's goes through on a daily basis, and this kept me going. When my medal arrived last year, I had already decided that the man I worked with deserved it, instead of me. Later that day he was presented with the medal by our management teams. I do believe it is still hung up on his bedroom wall :)

This year, I received a group email telling me that there had been a slight change to the 7k for 700k challenge, due to Government restrictions. I remember being saddened initially. Then, if I'm honest, I felt relieved that my creaky bones would be saved for another year :)

With the recent changes taking place, the National Autistic Society came to the forefront of my mind, and I wanted to show my support. Without all of the staff and volunteers being there to support individuals and families, who else could autistic people and their families turn to? People's whole routines changes have been suddenly changed. The National Autistic Society has been here throughout to help advise autistic people and provide support for care/support staff as well as parents, carers and guardians.

This 7k challenge all of a sudden, now became a challenge again to show our support! I didn't know how we'd do it apart from a 7k dance, but it was a challenge to be faced head on with full steam ahead :)
How had you originally planned to complete this year's 7k challenge originally?
Our original plan was to split the 7k between running and walking, from where I work at the Walton Lea Partnership to my home address.

My work involves supporting adults with learning disabilities and mental health conditions. As I was inspired by the individuals I support, it seemed appropriate to tie my workplace into the challenge somehow. I planned to end the challenge at my home address, 7km later, where I would reward myself by lying on the floor and pretending to be a starfish!!!

I had also originally planned to get a few friends on board as part of my support team. I have a medical condition, so my friends would be there to ensure emergency medications were accessible, should anything go wrong. Ironically, it actually it rained on the original date of the event.
What adaptations have you had to make for your challenge?
With the current restrictions in place, the running/walking challenge was out of the window. However, where there's a will, there's a way…

When I was identified as a high-risk person, I knew a 7k run/walk was not going to happen. During the early part of lockdown, I was relying on the goodwill of another charity to help me get through my own medication changes and to help me understand changes I was experiencing.

As a family, we enjoy canoeing, and wanted to incorporate this into our challenge. However, it's a bit difficult to canoe with no water! We managed it in the end, but not in the way you'd think. We adapted the roof bars for my husband's car to make sure the canoe was secure and fashioned a land-based canoe.

My daughter, Caitie-Lou, went first, with no water, and she had a fantastic time. Once we noticed that her fitness device had registered what she'd done, it was challenge time! We switched over in the canoe and, although on dry land, it soon became obvious that 'dry' and 'land' would be words we'd regret!

With a huge thanks to Dave, my husband, the water pressure was turned up and I was absolutely soaking wet! Caitie-Lou was next due in the canoe 15 minutes later. Again, the hosepipe came out but we also came to some rapids. The canoe was being lifted and tipped, thanks to my husband! Neither of us capsized though :)
Are you and your family keen canoeists?
My family is often referred to as the Mc Trio. While we have a large family on both sides, our home consists of three fun, challenge-loving individuals: my husband, my 14-year-old daughter and me. Over the years, we have saved up for our own open top canoes, which we are very lucky to have.

My husband is the strongest canoeist of the three of us, especially on the sea. We often wave him off with a 'see you shortly' from the coastline or harbours, knowing he'll be at least another two hours on the water. Unless we see a flare, we only then worry if he's no longer in sight – all thanks to the magic of technology!

Following Dave, I can be often seen jumping in a canoe and paddling out, once he arrives back. I tend to stay within visual distance of shoreline and much prefer the rivers and canals. Caitie-Lou has been canoeing since she was four-years-old but she had some time off. She's now canoeing again and doing brilliantly well! We can't wait until we can safely get back on the water again. I think if we'd had different weather and given the opportunity, we'd be canoeing in puddles!
Any tips for others taking on the challenge?
With the current situation we are faced with, if you can think outside of the box and come up with a unique, unexpected idea, then go for it! Get all the family involved, have a chat about autism, and how it impacts individuals and families.

What better time to make memories? There's so much sad news in the media, so be the spark to someone's flame, turn their frown upside down. Be the inspiration for others to look up to.

Although exercise is now allowed under the new guidelines, why not stay safe, stay at home and make the most of your own imagination? Imagination has no upper age limit!
Any tips with asking for sponsorship?
This year has been more difficult than most to gain sponsorship, especially as this is our third family sponsored event within six weeks.

Set up a Just Giving page and share it every few days, or ask people to sign up for membership with the National Autistic Society. Families are struggling all over the UK currently, why not write something to raise awareness on social media and ask friends to share your posts? Education and awareness start with every single one of us. Sharing is caring after all!
Many people's day to day lives have been disrupted, due to coronavirus. Any general tips for coping with the recent changes?
Be there!
Take advice from the help pages available to us from the National Autistic Society!
If you are unsure how to deal with all the changes, never be afraid to ask.
Remember that you are not alone!
Be as honest as you possibly can and discuss (if applicable) all the changes that are going on.
If you need help, don't be afraid to reach out.
Have you or your family received any support from our charity?
I joined as a member quite some time ago and have accessed your website on numerous occasions now. I have researched activities you've suggested and spent a lot of time in the members' section. I am also just finishing a Diploma in Autism and have quoted you in my assignments many times.

The challenge may be over, but there's still time to get on board and support the Mc Trios through their JustGiving page or Facebook donation page.
Are you on board for the 7k for 700k challenge?
If you've been inspired by Jo and her family, you too can get creative and try the 7k challenge your way.