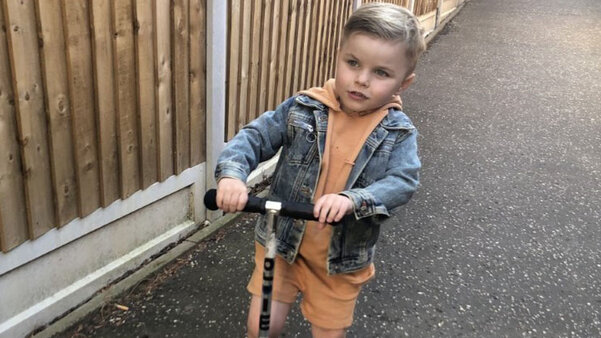 Henry Small is 4 years old and was diagnosed with autism just before his third birthday. He is currently non verbal and has sensory processing difficulties too.
Henry's mum, Zoe, told us, "Our family's journey with autism pretty much consumes our daily life and we couldn't be prouder of Henry each time he makes progress in something. I remember going straight to the National Autistic Society website at the start of our journey, and I regularly visit it for advice and links.
Since the lockdown started Henry is unable to continue at his therapy center or nursery, so we've been trying to find ways to keep Henry stimulated and happy every day. I really wanted him to be able to ride a scooter, so we started taking him out last week to practice - he was trying so hard to coordinate everything and enjoy it. After a few days he is confidently riding the scooter and enjoying it so much. This feels like a huge achievement to us so because of how difficult he finds a lot of tasks. I had an idea that we might be able to raise some money (and awareness) for such an amazing cause, that has been essential to us during difficult times- I knew this would be a challenge for Henry to stay focused for so long.

We initially set the target at £260 but we've raised over £3,000 and are delighted to know that money will be able to support so many more autistic people, and their families."

Go Henry!!