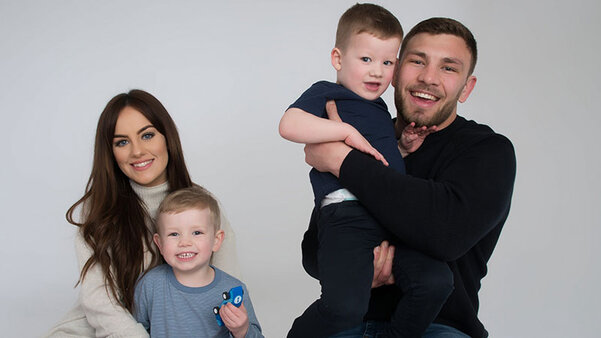 Next to tackle the 7k for 700k challenge is Harry Wells. Harry is a rugby player for the Leicester Tigers and a dad to two twin boys, Oscar and Theodore. We chatted to Harry about why he stepped up to the 7k challenge, how he's coping with the current restrictions, and his family's blossoming garden project.
Why did you sign up for 7k for 700k and what inspired you to raise money for the National Autistic Society in particular?
My son, Oscar, was diagnosed as autistic a couple of years ago, so the National Autistic Society is a charity close to my heart. The 7k for 700k in particular is such a great event. It's very inclusive, as the kids can take part as well, and you do it at any time, anywhere, and in any way you want. This is great for people with additional needs, as they can complete the challenge in a way that suits them.
How did you complete your challenge this year?
I completed the challenge with my wife Olivia, and my two sons, Oscar and Theodore. The boys split their 7k over the space of a week. They are only four, so their little legs can't run too far! My wife and I ran the 7k in one go, around our local area.
We were planning to host a big community fundraising event. We were going to have a bake sale, a raffle and other fundraising activities. However, lockdown was announced during World Autism Awareness Week, so we had to cancel it. Hopefully another fundraising opportunity will come up in the future, and we will be able to host the event we'd planned. It would be a shame to let the opportunity go to waste, as a lot of people seemed interested in getting involved.
Do you have any tips for anyone planning to take on the 7k virtual challenge?
Do it at your own pace and do whatever feels comfortable for you - whether you're baking seven cakes or painting seven pictures. Do whatever you enjoy.
My kids and I are always running around, so active challenges are perfect for us, but it may not suit everyone. Just do what you enjoy, and (if you live with your family), try and do it together. If you have children, it's a great way of keeping them entertained and focused, especially with the current restrictions in place.
You have raised a staggering amount of money - thank you! Any fundraising tips for those taking on the challenge?
It depends on the event you're taking part in. In my experience, people have been really generous, especially in our local area. We asked a lot of our local businesses to get involved. This involved things like asking shops and bakeries to put up posters about our fundraiser on their windows. They might then be inspired and want to get involved with the fundraising themselves. I'd really encourage people to reach out to their local community.
Social media is a great way to let people know about your event. Our village has an autism awareness Facebook group, so I shared the fundraiser on there, and a lot of people responded. It's also been great in terms of raising awareness of autism. It can spark conversations about autism and new relationships with people in the local area, which may not have happened previously. It's very encouraging as the parent of an autistic child to know that you are not alone.
Why do you think raising awareness of autism is so important?
There just isn't enough awareness really. When I'm out and about with my family, it can be really difficult to explain to people why Oscar is behaving the way he is. He has trouble regulating his emotions. When we were shopping (before the coronavirus pandemic started) he'd get very overstimulated and would struggle with not being able to have something – eg. a specific item. This often leads to a meltdown. People then sometimes stare, or make unhelpful comments. It's really difficult as a parent, because you feel judged, and you don't want to exacerbate an already difficult situation.
I've found people often see autism as just a social communication disorder, but don't always know about the other things that come with that. For Oscar, emotional regulation and sensory overload are big issues, but people aren't necessarily aware that these are linked to being autistic. Just a little bit more understanding would go a long way.
How are you and your family coping with the current coronavirus restrictions? Any tips for those who may be struggling?
Initially, the sudden change in routine was really difficult for both our children. Oscar has some really bad days, so establishing a sense of structure really helps him. We set up a 'reward chart', which worked really well. Before the lockdown began, Oscar wasn't toilet trained. By using the reward chart, he has been able to focus on a specific goal, which has made a positive difference. Being at home more (as I'm away for work a lot) has given me more insight into the challenges Oscar faces on a daily basis. This can be really challenging for my wife as well, so I'm learning to appreciate that.
The boys have been doing a lot of drawing, arts and crafts, and playing with Lego, which they love. It keeps them busy for a long time!
We've also been doing gardening over the last couple of weeks, and have even dug a pond in the garden. The boys have really enjoyed this and it has sparked a new found interest in nature for them. Doing little creative projects like this are a great way to stay busy and to spend time with family.
Be a home hero like Harry!
If you've been inspired by Harry's advice, why not get creative and try the 7k challenge your way?