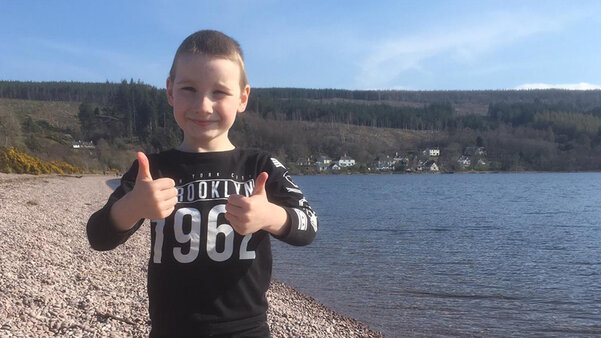 Meet mother and son walking duo, Claire and Calum, who trekked across the scenic Scottish Highlands to raise funds for our charity. Claire and Calum live near the legendary Loch Ness (home to the Loch Ness monster) and are both keen walkers.

Calum is autistic and can often get overwhelmed by the challenges of day to day life. We chatted to Claire about Calum's diagnosis, taking on our 7k for 700k challenge, and how she and her family are coping with life under lockdown.
Why did you sign up to 7k for 700k?
We signed up for the 7K as my son Calum enjoys walking and the challenge that goes along with it. Calum was diagnosed nearly two years ago. He also has a pathological demand avoidance (PDA) profile, so team sports and events really stress him out. Doing these challenges means there is no pressure, he can work at his pace, but still gets a reward at the end.

Calum really does struggle at times, but he is getting better at recognising when he is becoming overwhelmed or upset. He is still learning and trying to understand what being autistic means for him. He knows he is autistic and has coped well learning about his diagnosis.
How did you complete your 7k challenge?
We completed the challenge over two days, as part of our daily walk. We live in a beautiful village in the Scottish Highlands called Dores (just outside Inverness, along the south side of Loch Ness). We do this same walk a lot so it was familiar to Calum and well within his comfort zone. The walk takes us along a path and then up into the woods.
Any tips for others taking on the challenge?
For others taking on the challenge, we would suggest having fun. There's no rush. Enjoy the scenery wherever you walk. If it feels too much, that's okay. Just try again when you can.

With regards to sponsorship, we set up a JustGiving page, which you can visit here. Our aim was to raise £100. We have raised more than that, which is amazing. Calum could see the results really quickly, so he knew he was achieving and could see his own progress.
Many people's day to day lives have been disrupted, due to coronavirus. Any general tips for coping with the recent changes?
We try and take things day by day. I try not to overwhelm Calum or my daughter Alena with information about coronavirus all the time. If I feel they need to know, I'll mention it...if not, we just go about our day.

I don't stress about school work. I always feel they have their whole life to study and learn, so we focus on life skills. For example, Calum recently learned to ride his bike. He is working on learning to tie his laces now. Both kids can use the washing machine, the dishwasher and are learning how to use the oven for meals.

I don't worry if it's too much for them. It's a lot for us adults to deal with too. I give them lots of love and reassurance but still let them be kids.