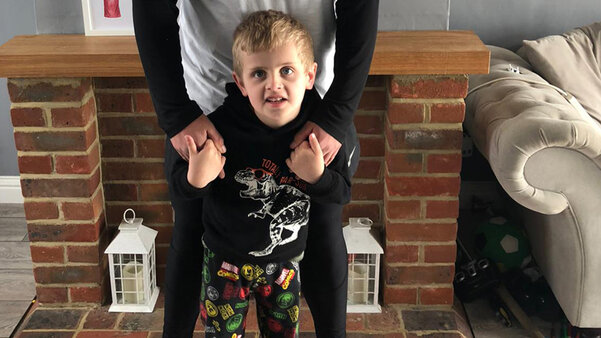 Next up we chatted to Aaron, fitness fan, fundraiser, and father to Luca, who is autistic.

Aaron put the 'fun' back in fundraising this World Autism Awareness Week with his family friendly approach to our 7k for 700k challenge. We spoke to Aaron about the inspiration behind his 7k adventure, the importance of stepping (or running!) out of your comfort zone, and how he and Luca's lives have been affected by coronavirus.
Why did you sign up to 7k for 700k?
I signed up because my little boy Luca is autistic. The support we have received from the National Autistic Society and autism groups online has been a godsend. I want to help spread the word to others that may be looking for support, but are unsure about where to look.

Through social media, I wanted to raise as much awareness as I possibly could. This way, I could educate people, who might not know anything about autism, on the impact it has on individuals and families.
How did you complete your 7k challenge?
My selected 7k challenge was road running. I set myself a challenge of 7km a day for 7 days.
Any tips for others taking on the challenge?
Enjoy the challenge as much as possible and step outside your comfort zone. Take the challenge at your own pace. Make it fun for all the family. For example, on one day I ran around the local field with my little boy. He covered a total of 1.5km. Then we both decided that I would run with him on my shoulders which he was over the moon about! Try to include family in your challenge and make it an event.

When asking others for sponsorship, I believe the more you step out of your comfort zone and really challenge yourself, the more people are likely to take an interest and make a donation. Lean on family and friends to share your pages or story and contribute (if they are able to). I was fortunate to have a large following of friends who shared my fundraising posts on social media. They were also kind enough to read through my story on my JustGiving page and contribute with a donation.
Many people's day to day lives have been disrupted, due to coronavirus. Do you have any tips for coping during this time?
We've tried to keep things as normal as can be. Luca gets up and does a couple of hours of school work each morning. This might be painting, colouring or numbers. He can then have TV/iPad time. We use online PE instructors (like Joe Wicks) to make sure he gets exercise. We also allow him free time in the garden to just run about and do the things he enjoys.

Try to keep everything you normally do going, but base it indoors and pick out the things you need to do. Point base it, 1-5 – 5 being the most important task (needs doing or must be done) and 1 is not so important (can be done later or another time).
Try the 7k your way
If you've been inspired by Aaron's story and are looking for a new challenge, why not take on the 7k for 700k? You can do it however and whenever you want.