This approach extends to my art practice, where the process is an act of self-development. I form emotional attachments to colours and materials. For instance, the colour orange has positive associations of comfort, as I dressed in orange as a child. This resurfaced following a family bereavement, as I explored in Orange Boy (a collaboration with Emily Jayne Boyd, 2018). I don't distinctly experience emotions like 'love', 'happiness', or 'joy', but rather extreme placidity or mania. I can't perceive facial expressions and emotions, therefore not understanding when I should show affection. I express appreciation and affection through visuals and objects. Being shamed by others for this, receiving negative views, or microaggressions, coupled with the internalised shame of being queer, the sense of suppression can be overwhelming. When these emotions are so intense, as it often is with those on the spectrum, we find ourselves having to justify or validate our feelings, which leads to further judgement. All of these end up placing the blame upon us.
Navigating and exploring sexuality can be strange for me. There are a lot of false assumptions made about autistic people, when it comes to sexuality and relationships. I think this is due to societal bias towards those who have developmental and neurological conditions. We are often seen as unable to have sexual autonomy, and we are often 'infantilised'. These thoughts seem to be at odds within queer culture, which puts an extreme emphasis on belonging and identity.
"There are a lot of false assumptions made about autistic people, when it comes to sexuality and relationships."

Due to hypersensitivity I have to approach environments and physical intimacy differently. Part of my sensory processing is being able to feel my bones vibrate when they move, feeling blood pulsate, or how a touch can feel like a punch. As in Intimacy In An Age Of Physical Absence 2020, the body is a series of pressure points as though it is inverted, with bones and muscle exaggerated. I see bodies as moving networks, they are often gender fluid, fragmented and morphed. In this respect, although not apparent, my work is realistic. I am communicating the experience, not of how I feel emotionally, but how it feels through sensations and processing my experience of my body or another's body.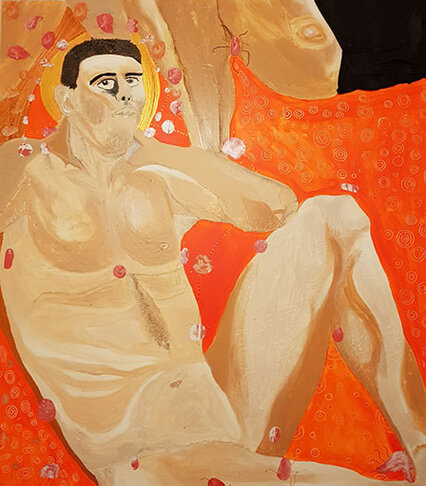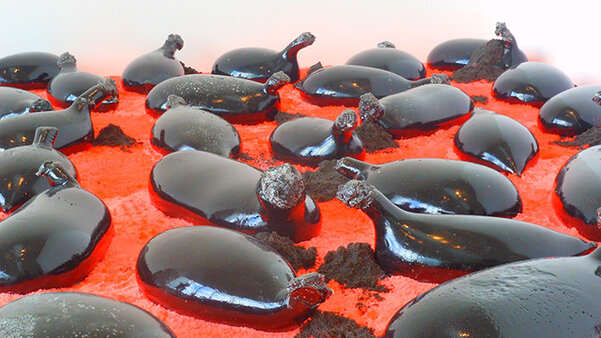 This issue around lack of belonging and possible isolation is relevant to the autistic community. Recent autistic research suggests around 80% of autistic people experience isolation in society, which is something similarly experienced by the LGBTQ+ community. For those who live in rural and less urbanised areas where there is fewer access to networks this issue is even more intense, as many queer individuals strive to find meaningful connections with others. This is often clouded further by the performative aspect of smartphone dating apps. Precious Boys 2016 is my vigil to this social health crisis, with bodily forms resting on imaginary landscapes, acting as a refuge for emotionally suppressed individuals.