2021 could be a year of change for autistic people
Published on 01 April 2021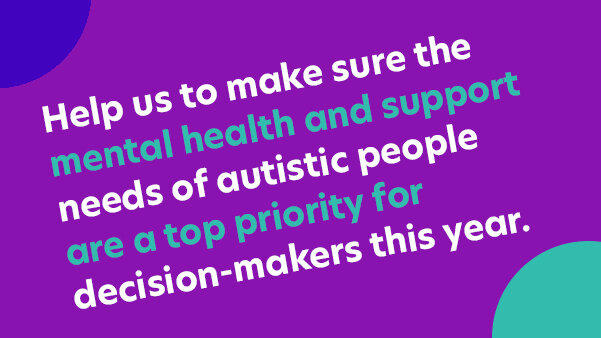 There are big opportunities on the horizon to improve the support for autistic people and their families. Governments are making important decisions about how to treat mental health, how to support children with special educational needs and how to improve local services for autistic people.
We want to make sure that the needs of autistic people are a top priority for decision-makers. Read on to find out how you can be part of these changes…
Why is all this happening now?
2020 was the year a lot of us had to put things on hold. This was also true for the Government in England, who had to delay their planned work in order to focus on the pandemic. That meant the autism strategy, the review into support for children with special educational needs (SEND) and the review of the Mental Health Act were all pushed back to 2021.
Why are these policy changes so important?
The current level of support for autistic people and their families just isn't good enough. In 2019, we found that:
More than two in three autistic adults in England don't get the support they need.
Only 14% said that there were enough mental health services in their area.
50% of parents said their child had to wait more than a year for support at school.
We're calling for specialist autism support in every council in England, more mental health, education and care services in the community, and a national public understanding campaign, among many other things.
What is the Government in England working on?
The autism strategy: Yes, we know we've been talking about this for ages but it keeps getting delayed! The autism strategy details the Government's plans for local services and support for autistic people in England. It is a huge opportunity to make sure that autistic people can get help in their community. The new strategy is slated to come out in late Spring. Once it has been released, we'll want to make sure it is properly funded and that autistic people are involved in developing local strategies. Sign up to our campaigner updates to hear when the strategy is finally out.
The Mental Health Act review: In 2019, over 217,000 campaigners signed our petition to stop autistic people being inappropriately detained in inpatient units. Currently, the law allows people to be sectioned because they're autistic – even though autism isn't a mental health problem.
In January, the Government released proposals to change the law which should result in fewer autistic people being wrongly sent to mental health hospitals. This is a big step in the right direction but we want them to provide more support in the community so autistic people don't fall into crisis in the first place. The Government is now asking for the public's view – you can check out their proposals and have your say here.
The SEND review: Too many children with special educational needs face an uphill battle to receive support in school. This isn't helped by a postcode lottery in accessing services. The SEND review is an opportunity to improve support and create consistency across England. It will also look at joining up health, education and care services. It's really important that the needs of autistic children are considered as part of this review. We believe the Government will launch a consultation later this year – sign up to our campaigner updates to take part when it's released.
What about the rest of the UK?
There are elections in Scotland, Wales and Northern Ireland. Elections are a good opportunity to influence the plans of the future government.
In Scotland, we launched the #OurVoiceOurRights campaign to call for a commissioner to improve access to support and champion the human rights of autistic people and people with a learning disability.
In Wales, we are calling for the Autism Code to be properly implemented and ensure all teachers receive training about autism.
In Northern Ireland, they are developing a new autism strategy which autistic people and their families will be able to have their say on later this year.
How can you get involved?
We'll be updating our campaigners on any opportunities to influence the Government's plans – you can make sure you hear about them by signing up to our email updates.