Case study - Autism at Work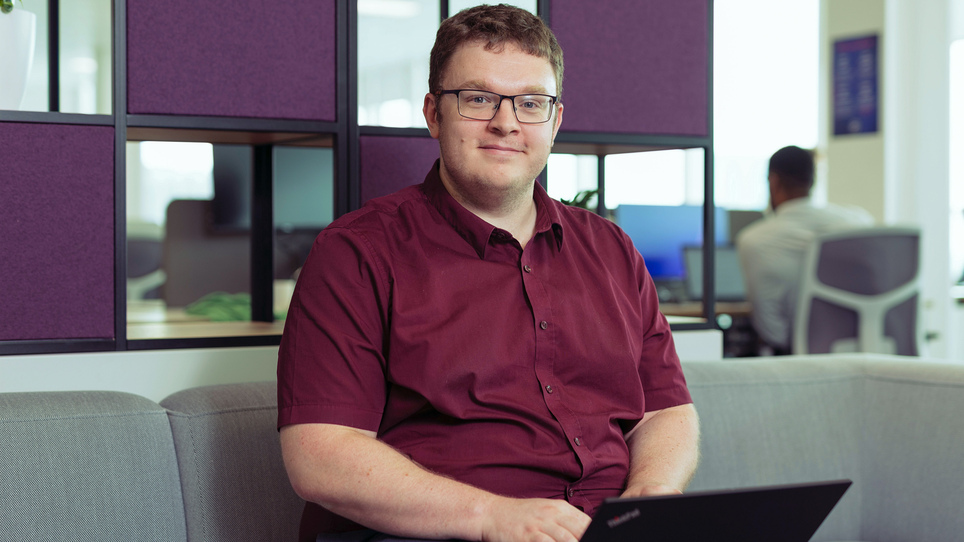 "I went into the Autism at Work programme on a whim and it ended up transforming my life."
Max
- Technical Support Professional at BT

Meet Max, a participant in our Autism at Work programme. Max now works as a Technical Support Professional at BT. BT is the largest provider of fixed-line, broadband and mobile services in the UK.
We chatted to Max about his role, taking part in the programme and how the National Autistic Society helped him to feel secure and happy at work for the first time.
Before the Autism at Work programme, were you in employment?
I was struggling in my previous role and wasn't offered much support after my autism diagnosis in 2020. After that I was looking for work for a few months before finding the Autism at Work programme.
How did you get involved with Autism at Work?
My mum told me about the programme which led to an introductory call with Susan (Employer Engagement Manager at the National Autistic Society). Susan was really lovely and introduced me to the opportunity at BT. She explained the role, the application and interview process, and made sure I was happy with everything.
Next, I had an introductory call with BT and they offered to show me the office. I found talking through the role very helpful as it gave me a feel for the job before even going to the interview. This would make a huge difference to a lot of autistic people.
How has the National Autistic Society supported you and your employer?
I have a call with my job coach, Leo, once a month. We talk about my progress and any difficulties I am experiencing. Leo also has monthly meetings with my manager. This level of support has been amazing.
The National Autistic Society also held training sessions with my managers and colleagues, and a lot of people attended. I think it's helped make things easier for my colleagues. It has allowed them to understand why I may not be very sociable in a big crowd of people, although I enjoy one-on-one conversations.
How are you finding your role as Technical Support Professional at BT?
I am really enjoying it. My team deals with the connections between big cities and diagnosing faults. It's great because we are able to work at our own pace and can truly collaborate with people from other teams. The role is autism-friendly. It's the first time I haven't had to make masses of my own adjustments in a role.
The office is great too. There's lots of rooms. If I get overwhelmed, I can easily work in a different room. I've only had to move on a handful of occasions but it's good to have the option.
Most of all it's nice to be able to focus on the work, rather than worrying about struggling in a role. I'm looking forward to getting fully trained up on everything. My long-term goal is to learn skills for a planned new system at BT.
What advice would you give to your younger self?
Go to the National Autistic Society because they will help you big-time. I found a job where I would gladly stay for the rest of my working life, quite a feat on their part. Feeling secure and happy in a role for the first time ever is phenomenal. I can't thank the National Autistic Society enough for that.
If you hadn't found this role through the Autism at Work programme, what do you think you would be doing?
If I hadn't found the Autism at Work programme, I would have kept applying for other roles. I definitely would have been open about my autism to any employers. But here I don't have to do that. I can just get on with the job.