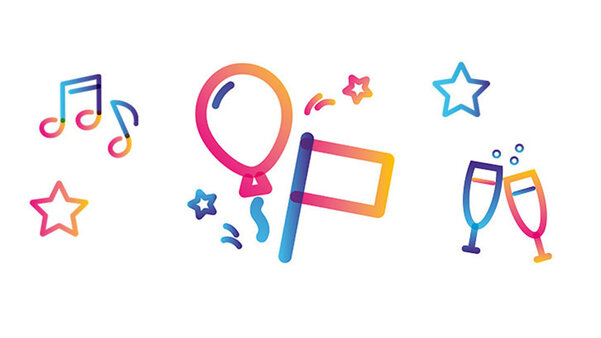 A quick, easy guide to celebration giving
If you are getting married, planning a big bash in celebration of a special day or you want to raise some cash and awareness for your birthday, this is a great way to fundraise!
Before the big day
The scale of your celebration will affect how far in advance you should plan.
Our attractive pin badges make great favours for any celebration. You can buy them through our web shop or refer to your materials order form. This is a great way to let your guests know this celebration is supporting a charity so close to your heart.
Some people like to encourage donations in lieu of gifts, and it's easy to do this by requesting donation envelopes using our materials order form.
However you plan to celebrate, be sure to share why it's important to you. Read up on autism facts - find out more about our work on our website and let people know how their gifts will help.
Consider online giving
An online giving page is a great way to ask for donations in lieu of gifts. This also allows guests who can't celebrate with you in person to support the causes you care about.
There are many online giving platforms, but for ease of use we recommend JustGiving and/or Facebook fundraising. See our handy how-to guide to online giving.
Don't forget to thank everyone, include photos and share your story as to why you are fundraising.
Promote your celebration
Where appropriate use social media to tell people about your celebration.
If sending invitations, be sure to let people know there is a charitable side to your celebration.
On the day
If there is an opportunity on your special day to mention this celebration giving, it's a good reminder to all your guests to donate just in case they've forgotten, and to acknowledge those who have given generously.
After your celebration
Pay in the money you've raised. Note that funds raised on JustGiving or through a Facebook fundraiser come straight to the charity and you don't need to do anything more.
Be sure to thank every person for their donation regardless of what they give. If you can do this through a channel with a link to a donation page it could spark extra funds.
Keep it safe and legal
If you are using collection tins or buckets at your celebration, be sure they are individually numbered and sealed.
Plan how to safely and discreetly transport money after the event and to the bank. Do not transport cash on your own.
Have two people present when breaking seals and counting money.
You may be interested in
For more information, materials or advice