Arran Linton-Smith shares his cycling stories, and why he's getting on his bike for Team Autism!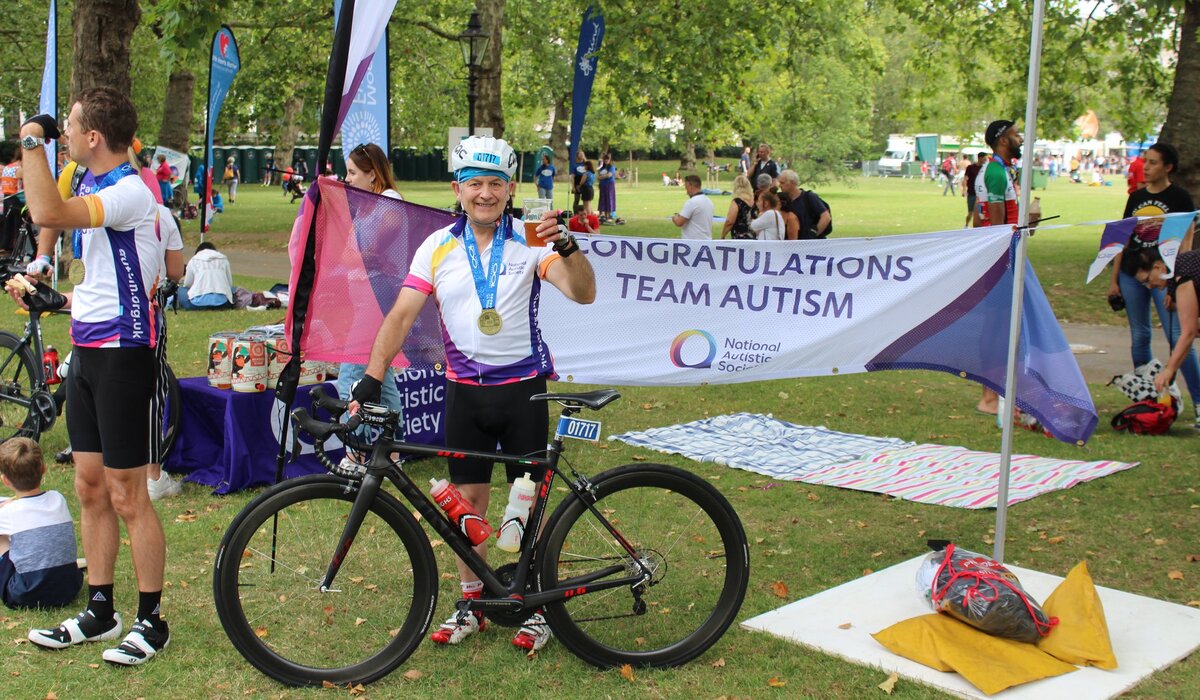 Meet autistic fundraising hero Arran Linton-Smith, a long-term supporter of the National Autistic Society and a keen cyclist. Arran has taken part in ten of our fundraising events -seven Ride London 100s, the Great North Run, and two London Marathons!
Here, Arran tells us a bit more about his cycling adventures, why he finds being on a bike therapeutic, and shares some of his scenic routes and favourite cycling spots – from the (very appropriately named!) Isle of Arran all the way to the Canadian rockies…
" I find cycling therapeutic. It gives me space to be on my own, which is important if you are autistic. When I'm on my bike, I can easily share my space with others while still being in my autistic comfort zone."
I have used my cycling skills to challenge myself, taking on a 200+ miles ride in a day. I have also taken part in some major events, such as the three-day 320-mile Tour of the Highlands event, which includes many major climbs and three of the highest climbs in the UK."
We have some great routes for cycling in the UK. Here are some of Arran's favourites…
"I cycled from Nottingham to the Isle of Arran. I took the route from Northallerton along the B6277, over the top of the Pennines to Alston, which also included a visit to Barnard Castle!
My second favourite cycle ride is the circular road around Yell in Shetland and the third is the Golden Road in Harris, Outer Hebrides!
Around the world with Arran… I have also gone on and cycled Canadian Rockies, cycled in the Himalayas twice and climbed (arguably) the highest road in the world at 18,380 feet, Khardong La!
I hope I can use my experience to help you with any bike-based or autism related questions, whether they are about the technical aspects of cycling, fundraising or even on some of the basics questions about autism."
Read Arran's cycling tips!
I have now learnt everything required to maintain and build a bicycle apart from building wheels, however all cyclists should at least learn how to mend a puncture.
The most important thing is getting plenty of time in the saddle so that you are comfortable with spending four to five hours peddling at a steady pace. I would recommend riding your bicycle at least three times a week over a six-to-eight-week period and three weeks before the event, you should comfortably be able to ride your bicycle for 27miles or two and half hours even if this is with your family.
Wanting to take on our brand new London to Brighton Cycle Challenge? Although it is a 54-mile ride and this may sound daunting to many novice-cyclists, the route is an undulating one with one big hill (Ditchling Beacon) which averages 6% and maxes out at 16%, but most riders in the London to Brighton Bike Ride generally walk this hill.