William Brittain – Great North Run 2019 runner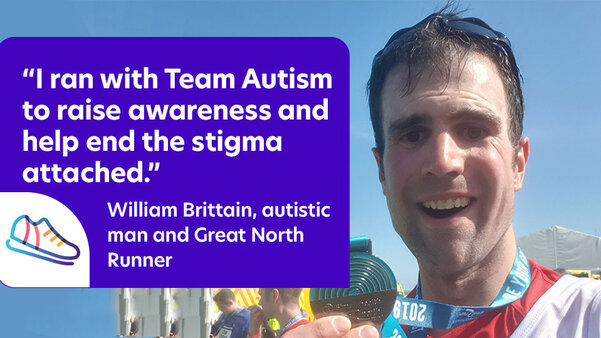 I chose the National Autistic Society as I feel it is a special charity. I am on the spectrum myself, and also have a few autistic friends. I felt it was important to raise awareness of autism and help end the stigma attached. I suffered from horrendous bullying in my younger days because I am autistic.
Getting ready
Training for it was really hard, especially during the summer as the day kept getting nearer. In the lead up to the event, I did a weekly run, including two 10ks. The amazing support from the trainers at my local gym and the generosity of my sponsors kept me going and determined to do it. I was really moved by the donations, which I received by promoting my sponsorship link through social media and through my colleagues. It also helped having friends & family spread the word.
On the day
The day itself was a very daunting, but exciting at the same time. The weather couldn't have been any better - maybe that was a good omen. I think my nerves were settled by the fact I was with a group of people who were also taking part for equally good causes.
As soon as I reached the start line, I must confess the butterflies were getting serious. There was no going back, but I kept saying to myself, 'you can do this, you can do this'. When the klaxon started and that iconic Local Hero tune started playing, I just knew it was going to be special. High fiving sport stars Steph Houghton a Mark Wood when crossing the start line was a big highlight.
The most spectacular moment for me was crossing the Tyne Bridge. I was just in awe of the view and knew it was an experience I would be talking about for the rest of my life. The course itself was very tough and the heat from the sunshine made it tougher. The amazing support from the crowd and the little snacks I got on route really kept me going - especially at the 10 mile mark where my legs were starting to get wobbly, but I was determined not to stop!
When I reached the finish line, I can't describe the initial feeling. It was a mixture of joy & relief. I must confess I did a little victory leap! Receiving my medal made it even more special. I had achieved something that I'd never thought possible. Having been reunited with my group, we celebrated in the grand manner of Prosecco, a variety of snacks and 80s tunes - fine rewards!
It took a couple of days to sink in and felt like a dream, but seeing my medal made me realise it was real!
My advice to aspiring Great North Runners
To those who are considering running, it is very daunting, especially if it is your first time, but if you train hard, get yourself in the right frame of mind you will smash it. Just remember to enjoy the day and know that there are other runners who are in the same position. The crowds will keep you going and you will remember this day for a very long time to come (it might even make you want to do it again!) :) Nothing is impossible!
Join us in the Great North Run Reimagined 2020
Unfortunately the Great North Run 2020 has been cancelled this year but you can still take part in 'Great North Run Reimagined' and run the half marathon anywhere, at any time on the 13th September. It won't be as good as the real thing, but we hope it will be an opportunity for us to still celebrate what would have been a great event weekend with you all!