Reaching new heights for Team Autism...with Kenny Elliott
Meet 16 year old fundraising hero Kenny Elliott!
Kenny is autistic himself, and a long-time supporter of our charity. Last autumn, Kenny took his support for Team Autism to even greater heights - abseiling the iconic Olympic Park Orbit for a second time, while raising funds for our charity.
Here, Kenny tells us a bit more about his fundraising adventure, why he decided to take on the challenge a second time, and offers some words of wisdom to aspiring Team Autism abseilers...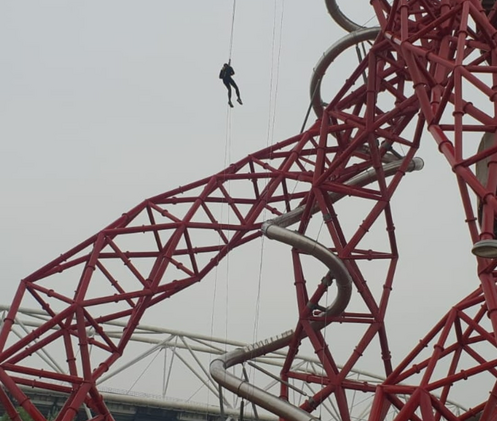 On Sunday 19 September I took part in an abseil at the Olympic Park, abseiling 114m down the Orbit, to raise money for Team Autism. This is my second abseil for the National Autistic Society.
Why I abseiled for Team Autism
I have chosen to support the National Autistic Society as I am autistic myself, and understand the struggles that many people on the autism spectrum face daily. The National Autistic Society supports so many autistic people - from helping them find work, to supporting their families.
I also wanted to take part in this event to break down some of the barriers that autistic people like me face. Raising awareness and acceptance is very important to me.
On the day
On the day of the abseil I felt really excited, and also a little scared. However, I knew I was in safe hands and would be supported by the staff. The abseil itself was amazing. I enjoyed every minute and I feel extremely proud of myself.
My family and teachers have been so very supportive through the whole process, helping me raising awareness and donating to the National Autistic Society.

I would encourage everyone to take part in future fundraising events, especially abseiling. Once you have taken part in one abseil, you get hooked and can't wait for the next one.
Abseil with Team Autism
Join us at the Olympic Park this year, to raise funds and aim even higher for Team Autism.